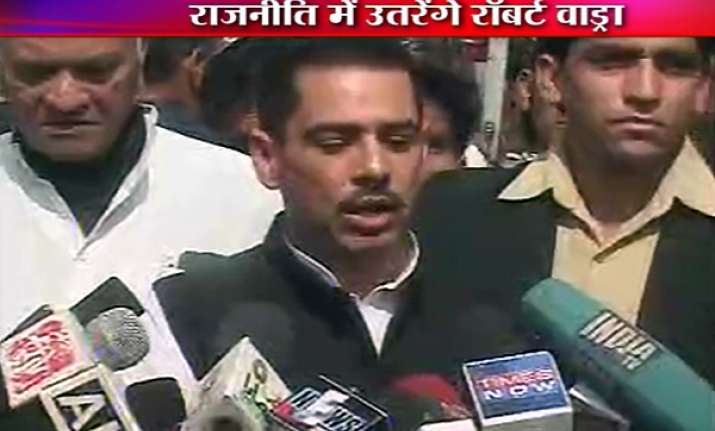 CSM Nagar (Amethi), Feb 6: Hitting the campaign trail in this Gandhi family bastion, Priyanka Gandhi's husband Robert Vadra today indicated that he was not averse to joining politics.

Arriving here along with his daughter last night, Vadra took part in a rally in Gauriganj this morning and later addressed the electorate in Salon assembly segment of Amethi. When asked whether he would join politics during an informal chat with reporters, Vadra said, "I would definitely contest if the people so desired".

He stressed that he is lending support as a family member to take forward Rahul's message, though both Rahul and Priyanka do not require any help.

"I have come to share and take Rahul's message to villages and every corner and you will definitely see a change," he said.

To a question whether it was time for Rahul to become the prime minister, he said that he could not speak on the issue and Rahul would himself reply to it.

Priyanka who has been here since the past February 3 would be addressing about 20 meetings all over the constituency today before she is expected to leave later in the day.

According to Congress sources, Rahul Gandhi is also scheduled to address three meetings on February 11 in Sultanpur, Gauriganj and Rae Bareli assembly constituencies, where polling is scheduled for February 15.

Asked as to when Priyanka would enter active politics, Vadra said, "it's up to her....whenever she feels fine and fit she will join."

On projection of Rahul as the future prime minister, he said, "people have to take that decision ..... right now the focus is on development and working for the people rather than getting any post."

To a question on the importance of elections for Rahul, he said, ".... every election is important for him."

On his indication that he was not averse to joining politics, Vadra said he was not hinting at anything . "I am focusing on my work ....whenever things change or I make a decision ....(or I) think I can make some change for the people only then will I join politics," he said.

In New Delhi, the AICC, however, feigned ignorance about Vadra's comments indicating that he was not averse to joining politics.

"I do not know about it. I have not seen or heard it. I can't react without seeing," party spokesperson Abhishek Singhvi told reporters.

Pressed further on the issue he asked the reporters to wait till tomorrow.

Other senior party leaders also declined to comment on it.

Asked about the possibility of Priyanka taking a larger role in politics, especially in UP, a senior party leader chose to point out that she has so far confined her campaign to Rae Bareli and Amethi only.

He said the Gandhi family decides on such issues on their own free will.