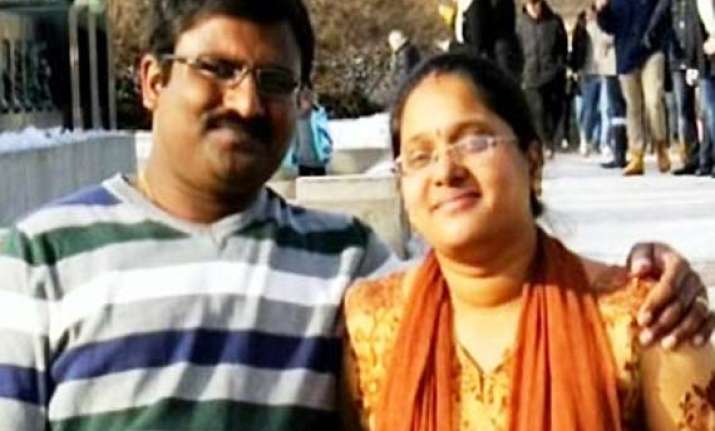 Hyderabad, Dec 4: A court in Norway has postponed to Tuesday sentencing an Indian couple facing criminal charges of maltreatment of their child, heightening the anxiety among their family members here.
The exact reasons for the court in Oslo postponing the sentence were not known but the family hopes that justice would be done.
According to reports reaching here, the court heard the counsel of V. Chandrasekhar, an employee of Tata Consultancy Service (TCS) on deputation to Oslo, and his wine Anupama.
The counsel highlighted the holes in the prosecution case by informing the court that the child welfare department had taken the custody of the child for a month and returned him to his parents after they promised to follow their suggestions.
"We are expecting that justice will be done," Chandrasekhar's nephew V. Sailendra told reporters here Monday.
The seven-year-old Sai Sriram and his younger brother are living with their grandparents at Miyapur here.
According to Sailendra, the children were worried and inquiring about their parents.
"They used to chat regularly their parents over net and with none of them coming on line, they inquiring about them. They are also worried after seeing the media coverage of their parents," said Sailendra.
The family members have once again appealed to the Indian government to intervene and seek their release. Member of Parliament from Machilipatnam K. Narayana Rao also sought the intervention of the government.
"Reprimanding the children by the parents is common in India as they do it for their good. How can they be punished for this," asked the MP.
External Affairs Minister Salman Khurshid has already ruled out any intervention in the matter. "This is an issue that relates not to the government. It relates to a private citizen and to the local law of that country," he said.
Overseas Indian Affairs Minister Vayalar Ravi, however, Monday said India can diplomatically do something in the case.
The couple was arrested by police in Oslo last week on charges of "gross or repeated maltreatment" of their child.
Justifying their arrest, the Oslo police have termed the case as "very serious". A police officer has been quoted as saying that the boy bore burn marks and scars on his body.
He also said prosecution has proposed a sentence of 15 months for the mother and 18 months for the father in the case.
The couple's lawyer denied that they hurt the boy but said they had some difficulties in handling him.
The arrest was made nine months after Sriram complained to his school teachers that his parents were threatening to send him back to India for wetting his pants.
Originally hailing from Krishna district in coastal Andhra, Chandrasekhar with his family returned home in July this year. Chandrasekhar again left for Norway on Nov 23 for work. This time he went only with his wife leaving behind his both sons. A court in Oslo issued summons and later the police arrested them.