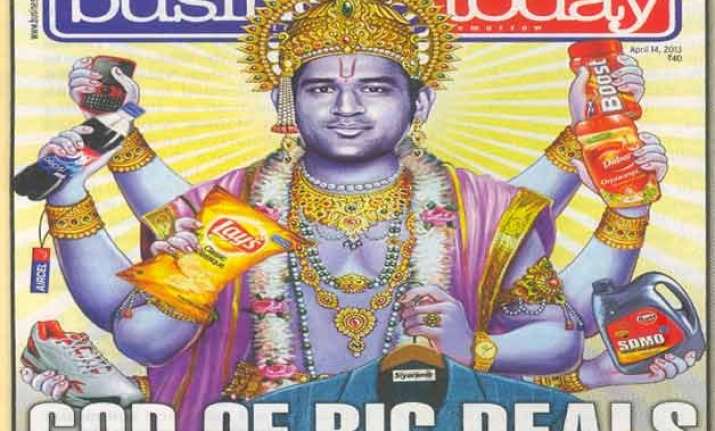 A court in Anantapur, Andhra Pradesh, has issued a non-bailable warrant against India's limited-overs skipper MS Dhoni for having failed to turn up during hearings in a case against him for allegedly hurting Hindu religious sentiments.
As per reports, the captain has been asked to appear in court on February 25.
The warrant relates to a case filed by Y. Shyam Sunder, a local leader of the Vishwa Hindu Parishad (VHP) alleging that the cricketer hurt the sentiments of Hindus by denigrating a Hindu god.
Business Today, in its April 2013 edition, had carried the picture. Dhoni can be seen in the picture as a commercial demigod, holding several merchandise. Dhoni was portrayed as Lord Vishnu and can be seen holding products of several companies including a shoe in his hand. The caption read "God of Big Deals".
"I haven't received any remuneration/goodwill or money for the news article or for usage of my picture on the cover page or anywhere else. Neither have I posed for the picture which was published in the magazine on April 14, 2013," Dhoni had stated in his defence earlier.
The 34-year-old cricketer is currently in Australia, preparing for a one-day international series, starting January 12. After turning out in five ODIs, India are also slated to play a three-match T20 series.
Recent months have seen Dhoni face severe criticism for his captaincy as well as his batting. The court's warrant in this case would probably be the last thing on his mind right now. 
The case has seen courts issuing arrest warrants against Dhoni previously as well. However, they were quashed by the Hyderabad High Court later. However, this time around, his repeated absence during case hearings has led to the issue of the non-bailable warrant.
The court has posted the next date for hearing in the case for February 22.