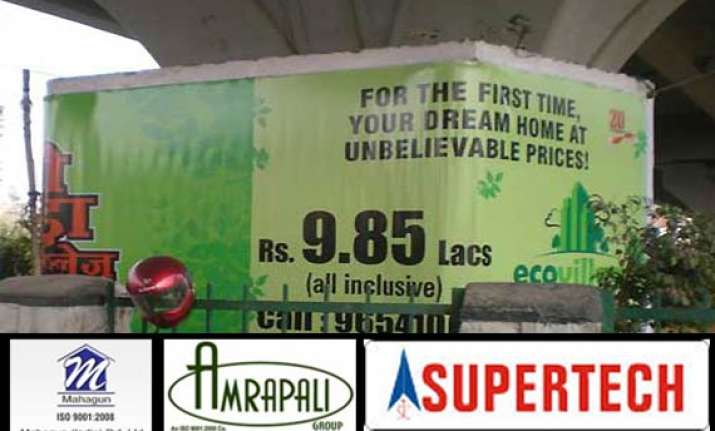 Noida, May 17 : Major real estate players like Amrapali, Unitech, Mahagun and Supertech have already got the shivers as the Allahabad High Court last week struck down land acquisition by the UP government, which was soon followed by fresh farmers' agitation over land acquisition on Monday in Noida Extension. 
Noida farmers turned aggressive on Monday and stopped construction work of group housing projects in sector 74 and nearby sectors. 
The farmers have threatened to stop the under-construction projects in Noida after June 15 if their demands are not fulfilled. 
Hundred of farmers of Soharkha, Sarfabad, Barola and Salarpur villages reached sector 74 carrying lathis and halted the project work of private builders including Supertech, Amrapali, Unitech and Gardenia. 
As soon as they reached there, the labourers working on the projects fled. The police were informed and four PCRs and three companies of PAC,  led by SP (city) Anant Dev, rushed to the spot. 
Senior officials of  Noida Authority  including DCEO CB Singh also came to the place. The farmers calmed down after they were given an assurance by the Authority members that they would be heard. 
Naresh Yadav, the leader of the farmers and pradhan of Soharkha village, said that Noida Authority is forcing a repeat of Bhatta-Parsaul in the district. "The authority illegally acquired 200 acres land of the gram samaj after ceiling. Apart from that, the Authority acquired land at nominal cost, which is not more than 10 percent of the market price," he said. 
The farmers have been demanding 50 per cent cost of market price for their land, five per cent land for villagers and 100 metre plot to those farmers who do not have land. 
"Officials have assured us that they will put our case before the state government. We have fixed a deadline of June 15 after which, if our demands are not met, we will hold a large dharna in Noida and halt all construction work," Yadav added. 
"We have taken note of the demands that were raised by the villagers regarding land acquisition and development. We will act on it soon," said DCEO CB Singh. 
Meanwhile, addition security forces have been deployed in Noida and senior district officials are keeping a close tab on the situation. 
Last week, the  Allahabad High Court quashed the acquisition of land by the Greater Noida Authority. This has shattered the dreams of almost 2500 families about owning a house. 
Till Friday there was brisk construction work but now the construction site bears a deserted look with all activities halted. 
With the Allahabad High Court order quashing the acquisition of land by the Greater Noida authority in the Chak Sahberi village in UP, the fate of another 8,000 flats that have been planned in the area are now uncertain. 
The High Court ruled that the Greater Noida Developement Authortity did not give farmers the opportunity to file their protest at the land takeover, under section 5 of the Land Acquisition Act. 
The Court says the land acquired for industry was given to builders with relaxed norms. 
Amrapalli Group, one of the developers whose Smart City project with over 5000 houses has promised to refund or provide an alternative site. 
CMD, Amrapalli Group Anil Kumar Sharma said, "We will provide alternative site or refund our investors." 
Projects by developers like Mahagun Builders and Supertech too have been halted. Mahagun Builders had plan 350 villas of which 50 have already been booked. 
With land acquisition become a major stumbling block few have accused the Greater Noida Authority of selling off land to builders. 
Petitioner Kesari Nath Tripathi, said "There is a big Fraud going on and CBI needs to probe it." 
The High Court orders came days after bloody clash between the farmers and the UP police over land acquisition. Farmers may now seek further court's help on other such cases. That means for many who have booked their homes in Greater Noida area, the uncertainity is likely to continue.