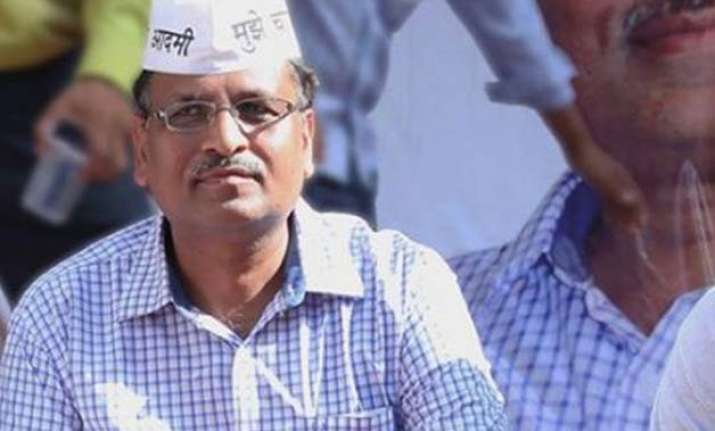 New Delhi:  Delhi government today denied that it had issued any cabinet note proposing to buy high-tech equipment for surveillance by its anti-corruption branch (ACB).
Delhi Health Minister Satyendra Jain refuted media reports that government is planning to buy surveillance devices for spying.
"I don't even know the meaning of word snooping. If we have to strengthen ACB then it will need things like car, computers, stationary and other things. Like, I want new high-end equipments for Quality Assurance (QA) team of PWD.
Modern equipment can ease your work," Jain said on the sideline of an inspection of a construction site.
Media reports mentioned that government's plan to buy the equipments for "research, analysis, surveillance and monitoring purposes" was part of a Rs 36-crore proposal to run the ACB, up from Rs 7 crore spent on it currently.
It also proposes to spend Rs 3.2 crore on the high-end equipments and the rest on vehicles, mobile phones, computers and salaries for additional staff.
Yesterday, Delhi government clarified that no such cabinet note was made by them. "There is no proposal by the Delhi government to procure anything called as snooping equipment and no such cabinet note has been circulated," Delhi government spokesperson said.
However, a senior official today said that as government is preparing to table budget this month, various department are sending their proposals.
"All the departments send their estimates but they are not incorporated in cabinet note. If there is a cabinet note then it is a public document and can be accessed through RTI," the official said.
Both BJP and Congress today tried to corner AAP on the "snooping" issue.
BJP protested outside Chief Minister Arvind Kejriwal's residence accusing the latter of buying "snooping" equipment for its Anti-Corruption Branch (ACB).
"AAP government wants to break into people's privacy. Who gave them the right to tap the phone calls of ordinary citizens? Who gave Arvind Kejriwal permission to buy snooping equipments? We believe in freedom of expression," the party's state chief Satish Upadhyay said.
Congress also sought Delhi government's explanation on reports that it was mulling purchasing high-end equipments for surveillance, as it expressed apprehension that the ruling AAP may use such a facility to snoop on its political opponents.
Delhi Pradesh Congress Committee president Ajay Maken said that he will write to Chief Minister Arvind Kejriwal to elicit his view on a "leaked Cabinet note", which he claimed that mentions about buying equipments for surveillance and spending large amount on it.
"A 16-page document has come to the public domain which carries government data and details of current infrastructure.This shows that it has leaked from government files, so we want Kejriwal to clarify exact status of this Cabinet note," Maken said while addressing a press conference.