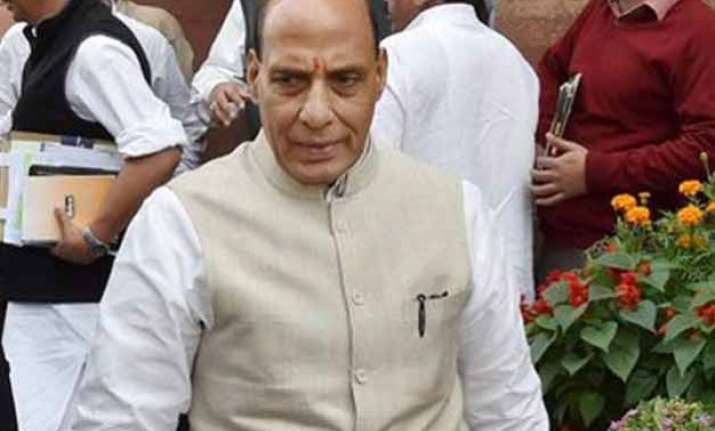 New Delhi: After stalling the broadcast of BBC documentary which features an interview of Mukesh Singh, a convict in the heinous Nirbhaya gangrape case of 2012, the Home Ministry has intensified its pitch to stop the screening of documentary in abroad as well.
Home Minister Rajnath Singh on Wednesday asked the British Broadcasting Corporation (BBC), the Ministry of External Affairs (MEA) and the Information and Broadcasting Ministry (I&B) to ensure that the documentary on the December 2012 Delhi gang rape is not broadcast anywhere in the world.
Earlier in the day, a Delhi court upheld the stay on telecast of a documentary based on an interview with a convict in the December 16 Delhi gang-rape case.
The court also banned the telecast of the documentary on the internet too.
 
Singh convened a meeting of top officials which included Delhi Lieutenant Governor Dr Najeeb Jung and police to get a better perspective of the matter.
He also summoned Delhi Police Commissioner BS Bassi, Tihar Jail DC Alok Kumar Verma to discuss the issue.
The Home Ministry may also pursue a legal course action against British filmmaker Leslee Udwin for interviewing the convict within the premises of Tihar Jail and for allegedly violating stipulated conditions in the permission that was granted to her.
Leslee, however, claimed that the Home Ministry and Tihar Jail authorities had permitted her to shoot the interview.
The letter, dated July 24, 2013, gave consent for the interview, when the UPA was in power and Sushil Kumar Shinde was the home minister.
The letter said the ministry does not object to the interview provided that written consent is obtained from each of the convicts interviewed.
The then Director General of Prisons Vimla Mehra, received
Ministry to grant permission to Leslee Udwin to interview some convicts.
Earlier in the day, Singh had said in Parliament that terms and conditions for the shooting were violated.
He said, "The condition was given to shoot the interview for social purpose and not for commercial use. A legal notice was issued to them when the jail authorities came to know that it violated the conditions. The permission to shoot the documentary was given with conditions."
He also said that a restraining order had been obtained against the screening of the documentary, but the opposition questioned the move.
Minister of State for I&B Rajyavardhan Singh Rathore said, "The airing of documentary would be contempt of court. This entire documentary is against the programming code of I&B ministry. Language seems to incite violence against women, and instils fear."