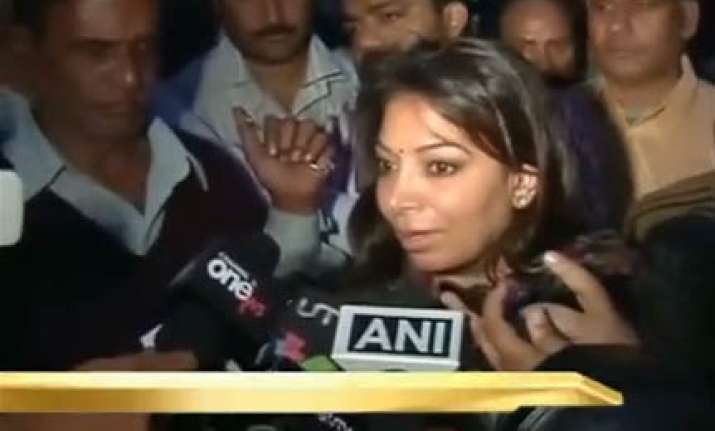 New Delhi, Nov 26: Corporate lobbyist Nira Radia  has admitted before the Enforcement Directorate (ED) officials that she was liaising with tainted former communication minister A. Raja on behalf of her client Tata Teleservices.
A British passport holder, Radia admitted accepting around Rs 60 crore from two clients as legitimate consultancy fees, a media report said.
The ED grilled Radia for several hours, after she turned up at its office at 9 am, on her links with Raja and telecom companies which benefited from spectrum allocation.
Radia asserted in a statement released by her company Vaishnavi Corporate Communications, that her only client Tata Teleservices has been discriminated against over the years and therefore suffered huge losses.
"The new CAG report also clearly states that Tata Teleservices, has been unfairly discriminated against in the allotment of spectrum," she said.
The agency had issued summons under the Prevention of Money Laundering Act and Foreign Exchange Management Act, directing Radia to appear before it on Wednesday. The ED had earlier summoned Radia but she failed to appear citing medical grounds.
The directorate recorded Radia's 20-page statement in her own handwriting regarding her role in the 2G spectrum scandal. "The statement was recorded under Section 50 of the Money Laundering Act which is admissible as evidence before a court of law," an ED officer said.
Prabha Kant, deputy director, ED, Delhi Zone, confirmed: "We have recorded Radia's statement and asked her to submit more documents. She will be called as and when required."
Radia is believed to have stated during her questioning that she had met Raja on behalf of her clients, which included Tata Teleservices and Unitech Wireless.
According to official sources, the agency grilled Radia regarding the flow of funds in her companies which included Vaishnavi Corporate Consultants, Vitcom, Neucom Consulting, erstwhile budget carrier Magic Airlines and Noesis Strategic Consulting Services.
Radia submitted more than 500 documents which included bank statements, IT returns and details of her consultancy fees from telecom companies etc. These documents are being examined, ED sources said.
Radia told reporters outside the agency office, "I'm here and available for full cooperation with the authorities".
"We have been asked for some information by the ED. We are complying and cooperating fully. I would also want to add that we are fully transparent. All information required from us on an on-going basis will be provided to the agency," said Radia.
ED has also issued summons to private firms which benefited from the spectrum allocation.The CBI, too, is chasing Radia to get to the bottom of the spectrum scam.
The I-T department in November 2009, had tapped phones of Radia and gathered information about nexus between politicians, officials, business tycoons and senior journalists.
The phone conversations revealed the extent of influence Radia wielded and is also explicit in one of the letters joint director of I- T Ashish Abrol wrote to then CBI DIG Vineet Agarwal on November 20, 2009.
The letter said from the taped conversations it appears that "Radia might have some role with regards to the award of telecom licences". The four companies owned by Radia not only "manage media" but "try to influence policy changes and decision of the various government departments to suit the commercial requirements of their clients".