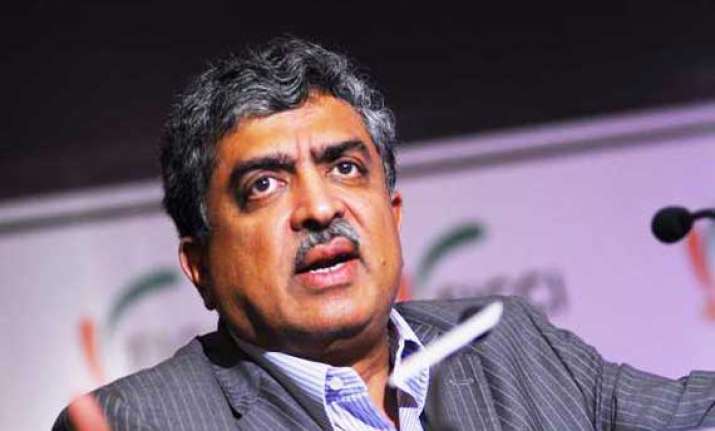 Bangalore:  Congress candidate Nandan Nilekani, contesting from the high-profile Bangalore South Lok Sabha constituency, Tuesday complained to the Election Commission and the Press Council on charges levelled against him by BJP candidate Ananth Kumar on the unique identity scheme Aadhaar.
"Ananth Kumar is trying to gain mileage by abusing a government programme (Aadhaar) which he was promoting a few months ago. In fact, he asked only one question on Aadhaar when he was in parliament. Till recently, he was advertising on Aadhaar enrolment banners in the constituency he had been representing for the fifth time," Nilekani said in the complaint.
Nilekani was till recently chairman of the Unique Identification Authority of India (UIDAI) in the central government.
Regretting that after he entered the election fray, Ananth Kumar had started attacking the programme, Nilekani said the BJP leader was part of forces trying to discredit a powerful anti-corruption step that would empower ordinary citizens.
"UIDAI never said the number is mandatory, which is another falsehood my opponent is spreading. Rather, some government agencies may decide to make the number mandatory to remove leakages and fraud in their systems," Nilekani said.
Referring to the Supreme Court order Monday on Aadhaar, Nilekani said it (ruling) was in response to a petition which UIDAI had filed as the agency did not want to share resident data for a criminal investigation.
"The apex court, in fact, upheld the UIDAI's position because the agency has always valued the privacy of resident data and went to the top court to ensure that people's privacy is protected," Nilekani said.
Nilekani said the BJP candidate was resorting to falsehood.
"He is using his party's prime ministerial candidate's (Narendra Modi) name to get elected because he has nothing to claim about himself and attacking Aadhaar to divert attention from his lack of achievements," he said.
Terming Ananth Kumar's charge that the UIDAI project cost the exchequer Rs.50,000 crore as grossly inaccurate, Nilekani said the agency had stated in its budget that it had spent only Rs.3,813 crore till December 2013, which is half of Bangalore's civic annual budget.
"There is no UIDAI budget that states Rs.50,000 crore as either planned or spent. The programme is expected to save taxpayers an estimated Rs.30,000 crore per year over the next few years by reducing corruption," Nilekani noted.