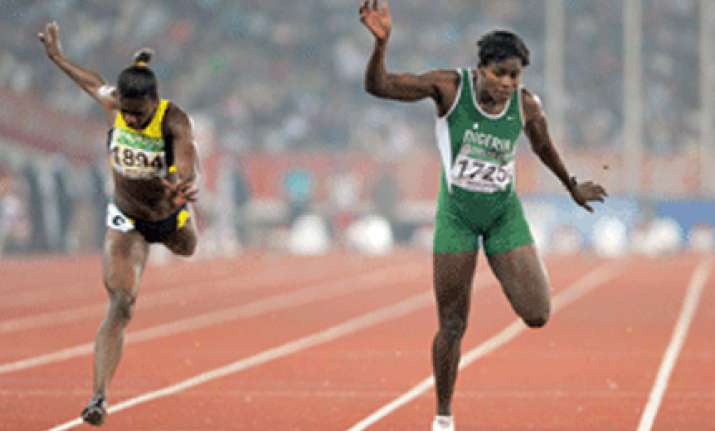 New Delhi, Oct 11: The Commonwealth Games was today rocked by its first doping case when Nigerian women's 100m gold medallist Osayemi Oludamola tested positive for a banned stimulant.  
Commonwealth Games Federation chief Michael Fennell announced this morning that Osayemi tested positive for methylhaxaneamine and her 'B' sample test and hearing will be held later today.
"I regret to announce that a positive dope case has come out. Nigeria's Osayemi Oludamola has tested positive for methylhexaneamine and under anti-doping rules of the Games, she has been handed a provisional suspension," Fennell said at his customary media conference.  
"Under anti-doping procedures she has been notified and she has requested for a 'B' sample testing. The 'B'sample testing will be done today and her hearing will also be held today," he added.  
Asked whether the gold medal has been taken back from the Nigerian, the CGF chief said, "At the moment no decision has been taken about the medal. She has been put under provisional suspension."  
Oludamola was handed gold after Australian Sally Pearson was stripped of her medal in a controversial 100m dash on Thursday for a false start. The Nigerian had crossed the finish line in second place behind the Aussie woman. PTI