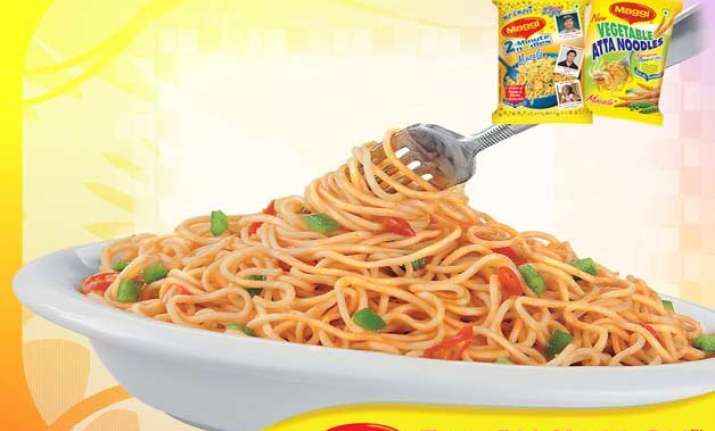 New Delhi: Nestle India has been asked to withdraw a batch of popular snack Maggi noodles from the market after it was found to contain high level of lead, Uttar Pradesh Food Safety and Drug Administration officials said.
While a company spokesperson did not reply to repeated calls and emails queries sent for comments in this regard, UP FDA officials said the order pertained to a 2014 batch of Maggi noodles.
Confirming the order asking Nestle to recall a batch of Maggi noodles, Additional Commissioner Ram Arya Maurya said, "Whatever action we had to take we have taken. I don't wish to say anything more."
Tests of the said batch had also reportedly found high levels of added monosodium glutamate (MSG), a taste enhancer, in the noodles.
Monosodium glutamate (MSG, also known as sodium glutamate) is the sodium salt of Glutamic acid one of the most abundant naturally-occurring non- essential amino acids. MSG is found in tomatoes, Mushrooms, potatoes and other vegetables and fruits.
Additives like MSG can be harmful for health, distinctly for young ones. Short term side effects involve- skin rashes, itching, hives, nausea, vomiting, migraine headaches, asthma, heart irregularities, depression and even seizures, says a fitness expert.
Sources close to the company said Nestle has contested the findings and said subsequent batches have passed all the tests.
They also contested the conclusion based on testing of just "one pack" of Maggi noodles.
Nestle India, a subsidiary of Swiss conglomerate Nestle SA sells instant noodle, ketchups, sauces under the Maggi brand.
It has around 60 per cent market share in the instant noodle category.
However The Food Safety and Standards Authority of India have dismissed ordering recall of any batch of Maggi noodles.  The central food safety regulator said they are waiting to inspect the initial report from the state enforcement agencies in Uttar Pradesh which found MSG and lead in excess of the permissible limit in the product.
"We have not yet ordered any recall. We are waiting to see the report from UP and may order countrywide sampling after that," as reported by some sources.  
Nestle has issued a statement clarifying its stand on the issue :