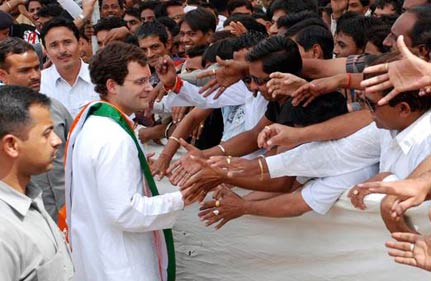 Patna, Nov 2: Predicting a rout for the NDA in the ongoing Bihar assembly polls due to a strong 'Rahul effect' on the electorate, the Congress today charged the NDA with making 'needless' and 'senseless' comments about the Amethi MP and posing questions to him on one issue or other.
Be it the Chief Minister Nitish Kumar's advice to Rahul to become the chief minister of a state first to understand the difficulties of governance or the BJP's poser to him on various scams like 2G, Commonwealth Games and Adarsh housing society in Mumbai, all these issues are irrelevant as far as the Bihar assembly polls are concerned, the state unit Congress spokesman Prem Chandra Mishra told reporters here.
Flaying the NDA for trying to deflect focus by diverting public attention on national issues and corruption by posing questions to the AICC General Secretary and giving him unsolicited advice, he said that the ruling coalition should restrict themselves with the state-specific issues to seek a mandate on their perceived achievements.
Mishra claimed that Rahul had succeeded in exposing holes in the NDA government's development agenda, rampant corruption in the state and misutilization of central funds and succeeding in roping in youth, women and deprived section of the electorate on the Congress bandwagon which, he said, the ruling coalition was unable to digest fearing the prospect of wilderness after the poll results.
Rahul's well meaning speeches and his efforts to connect with the masses have catapulted voting percentage by more than ten per cent in the first four phases of the ongoing assembly polls and yet the NDA was finding faults with the Congress leader for his plain speaking, he said. PTI