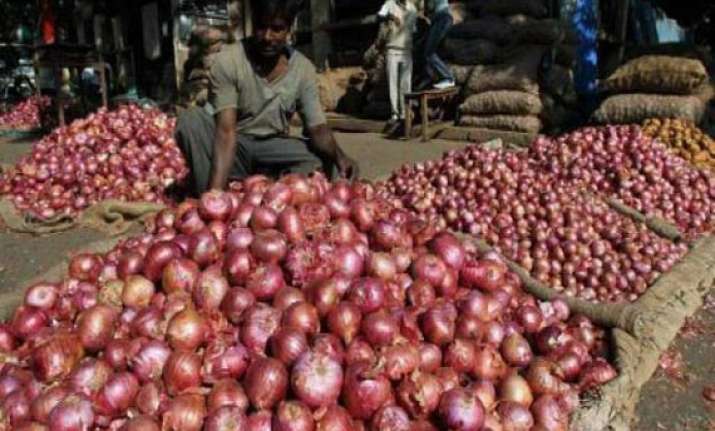 Nashik: Rajendra Sharma, the president of Delhi Agricultural Produces Market Committee, was shown black flags by onion farmers and traders today, when he around the onion market here to understand the reasons behind prevailing pricehike.
Sharma met the onion traders and the district collector to gauge the present onion stocks in Nashik and the prevailing price levels here.
The onion farmers, who showed him black flags at the collectorate, claimed that they were getting higher prices this year for onions, and officials from Delhi are trying to put the brakes on their profits.
In Delhi, Food Minister K V Thomas met Agriculture Minister Sharad Pawar to discuss the skyrocketing prices of onions. Pawar later said, he hoped prices of onions are likely to fall in the next two to three weeks.
Pawar said: "The prices of the onions are less but I do not understand when the farmers are getting 40 rupees or 35 rupees price in the market then why it is going to 80 to 90  or 100 rupees.  I do not understand that. That is why I think  state government has to take immediate effective steps."
Union Commerce Minister Anand Sharma said, state governments must take action against onion hoarders. "If you look at the price variations  in produce mandis and consumption mandis, the variation is very high. It is an artificial scarcity and now that fresh arrivals have started in Karnataka and Maharashtra, the situation should improve."
Delhi chief minister Sheila Dikshit today said, nearly 8,000 quintal onions arrived in the capital today and it is hoped prices would come down.
Dikshit said, three officials from Delhi government alongwith APMC chief have gone to Nashik market. "Onions are being sold for Rs 40 a kg in Pune markets. Nafed (National Agriculture Marketing Federation) officials have promised they will supply onions to Delhi on no profit-no loss basis.", she added.
The Delhi chief minister said she would write to the Election Commission to allow the state government to sell onions at controlled rates through trucks and vans for the common people.