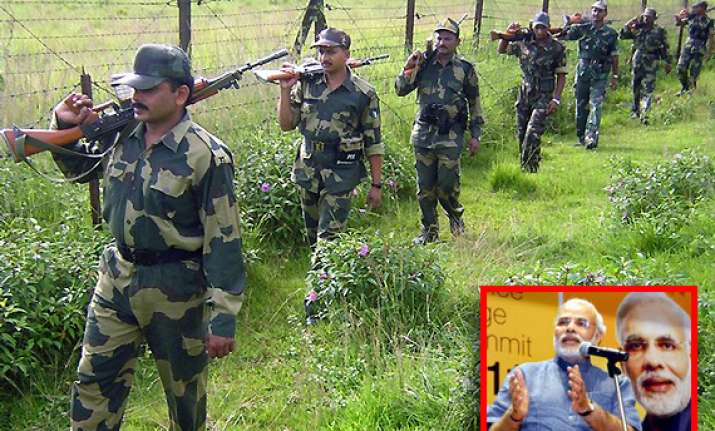 Ahmedabad, Apr 14: Gujarat Chief Minister Narendra Modi today wrote to Prime Minister Manmohan Singh opposing the proposed move of giving sweeping powers to Border Security Force to arrest and search anyone anywhere in India, saying this is an attempt to "create a state within a state".  
In a strongly-worded letter to the Prime Minister ahead of meeting of chief minister to be held in Delhi on Monday, Modi warned against amending the Border Security Force Act, 1968, to give such powers to BSF.
Modi dubbed it as yet another systematic move to "create a State within State' or a "Second State".  
"This is another attempt by the Centre to weaken the federal structure of the country. The present central government is hell bent to snatch powers of the state and is conspiring to weaken the federal structure," he said.  
The bill to give power of arrests, searches and seizures to the BSF anywhere in the country is in the agenda of discussion in the meeting of chief minister of the country to be held in New Delhi on Monday, Modi said in the letter.  
As mentioned in the agenda of the NCTC, Modi noted that similar provisions are already available to Central Armed Police Forces (CAPF) like Sashastra Seema Bal, ITBP (Indo Tibetan Border Police) and CRPF (Central Reserve Police Force).
Some state governments have expressed their views and favoured the move to give such powers to BSF, the agenda further said as per Modi's letter.
He recalled that he had sent letters to the Prime Minister earlier too, opposing the Centre's unilateral and arbitrary move to create National Counter-Terrorism Centre (NCTC) and give wider powers to Railway Protection Force (RPF) to interfere into states' affairs and jurisdiction and curtail their powers.
"As far as I understand, BSF was created for the protection of our borders. The BSF has been given powers under Criminal Procedure Code to arrest offenders in border areas and investigate them," Modi said.
As per the existing provisions, he said, services of Armed Forces and Para-Military Forces are requisitioned to assist the civil authorities during natural calamities and other emergencies to maintain law and order and these forces have stood up to the expectation in performing their duty.  
He said paramilitary forces like State Reserve Police (SRP) also perform their duty with respective state governments, but have not been given any power to arrest or investigate.
BSF, which is at present deployed for anti-Naxal operations, had sought an amendment to the act so that it could also arrest people within the country especially in Maoist-hit states.
At present, the BSF has arrest and seizure powers limited to the border areas The centre is attempting to axe the powers of the state police creating distrust and is trying to demoralise them, which could not be accepted under any circumstances, Modi said.