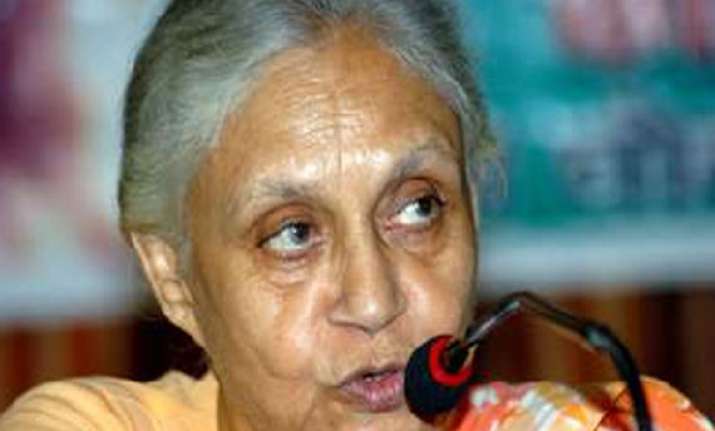 New Delhi, Jun 2 : Describing the murder attempt on an MLA as a "matter of great concern", Delhi Chief Minister Sheila Dikshit today said such incidents should not happen and asked the City Police Commissioner to enhance security of the legislators.
Dikshit's remarks came after a meeting she had with Delhi Police Commissioner B K Gupta to discuss the security scenario in the capital in the wake of MLA Bharat Singh being shot at by unidentified assailants and demands from Congress legislators for enhanced personal security.
The meeting was held on the direction of Speaker Yoganand Shastri after MLAs yesterday demanded police protection citing increased "threat perception" while having to deal with difficult situations in public interest.
"It is a matter of great concern that an MLA has been attacked. We have to take precaution. The MLAs have raised the issue of threats to them yesterday and today this incident has happened.
Security should be enhanced," Dikshit said, adding these type of incidents should not happen.
She said the Police Commissioner had told her that Personal Security Officers (PSOs) have been provided to a number of MLAs who have raised security concerns.
The issues regarding security of MLAs will be discussed on Tuesday, she said.
Gupta said Special Cell and Crime Branch have been roped in the investigations into the murderous attempt on Singh and the best of the investigators have been assigned the job.
"I have informed the Chief Minister that any MLA having apprehension about security or facing threats will be given police protection," Gupta said.
Yesterday in Delhi Assembly, an extortion call to MLA Jaswant Rana's son had prompted other legislators to seek enhanced protection.
The strong demand by the legislators came after Rana said in the assembly that his son received a call last week from an unknown person demanding Rs 50 lakh.
Following Rana's demand for adequate security, a number of Congress MLAs also joined him in seeking police protection in the wake of "increased threat perception" and to carry out developmental works "fearlessly".
Dikshit had said security of the MLAs was of "paramount importance" and the incident involving the legislator is being taken up with the police seriously.
As number of Congress MLAs demanded "adequate security" for the legislators, the Speaker issued a direction to call the Police Commissioner to the House to convey concerns of the MLAs.