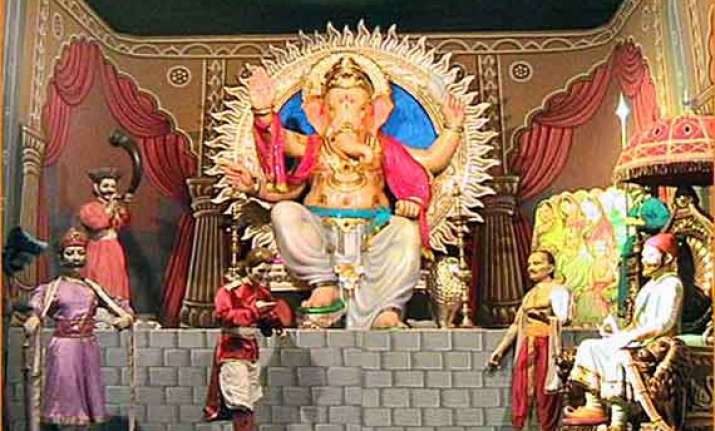 Mumbai: Glittering decorations on roads and bylanes, rows of fairy lights, magnificent patriotic and social themes and an infectious religious fervour mark the start of the annual 11-day Ganeshotsav festival that begins here Friday.
Since the past couple of days, big and small idols of Lord Ganesh have started arriving in Mumbai, Pune, Kolhapur, Ratnagiri, Raigad and other cities and villages from studios across the coastal Konkan region amidst beating of drums, cymbals and merry dancing in trucks, tempos, cars, autos, two-wheelers or even carried on heads.
All along the various routes, devotees raised welcoming cries of 'Ganpati Bappa Morya', singing the lord's favourite bhajans and aartis punctuated by fireworks in Mumbai and other parts of Maharashtra.
The festival is now in its 121st year.
"Tomorrow, after ensconcing the Ganesh idols in huge marquees erected by mandals, or in individual homes, the devotees shall perform the traditional 'sthapna puja' for Lord Ganesh, who is revered as the 'vignaharta' or destroyer of all evils," priest and astro-consultant Milan Thakar told IANS.
Mumbai's air is filled with the aroma of thousands of tonnes of Lord Ganesh's favourite sweet "modak" and "karanji" which are offered as the 'prasad' to devotees, after the daily three-time aartis.
"This is one festival where nobody is invited to homes or marquees, but everybody is heartily welcome, anytime. In big marquees like the famous Lalbaugcha Raja, Andhericha Raja, Ganesh Gully and other mandals, the darshan goes on round-the-clock," said Anant Joshi of Andheri.
The runaway inflation and inclement weather conditions have failed to dampen the growing enthusiasm for the festival, which was initiated on a modest scale by freedom fighter Lokmanya Bal Gangadhar Tilak in 1893 to unite people during the British rule.
"This year (2014), there are 11,555 public Ganeshotsav mandals and around 205,000 domestic Ganpatis, an increase of roughly 20 percent over last year," the umbrella organisation' BrihanMumbai Sarvajanik Ganeshotsav Samanvaya Samiti (BSGSS) president N. Dahibhavkar told IANS.
Due to persistent efforts at various levels, Dahibhavkar said that nearly one-third of all the Ganesh idols this year shall be eco-friendly, made of clay, instead of PoP, plastic or other non-biodegradable material.