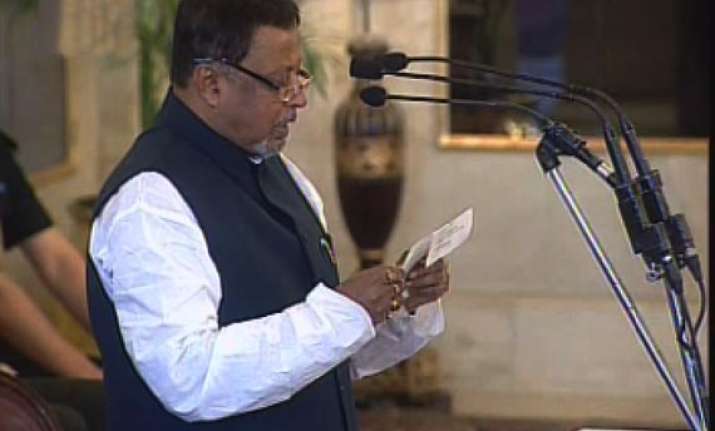 New Delhi, Mar 20:
Trinamool Congress leader Mukul Roy was today elevated and inducted into the Union Cabinet as Railway Minister replacing Dinesh Trivedi, who was forced to resign after Congress caved in to Mamata Banerjee's pressure. 
Widely expected to roll back at least the lower class passenger fare hike proposed by Trivedi in the Railway Budget, Roy, 57, was sworn in as cabinet minister at a special but brief ceremony by President Pratibha Patil at the Rashtrapati Bhavan.
Shortly later, a communique from Rashtrapati Bhavan said Roy has been allocated the Railway Ministry on the recommendation of Prime Minister Manmohan Singh. 
Before elevation, Roy was serving as Union Minister of State for Shipping and had earlier been Minister of State in the Railway ministry before Trivedi took over last July. 
The ceremony was attended by Vice President Hamid Ansari, Prime Minister Manmohan Singh, the UPA chairperson and union ministers including those from Trinamool Congress.  After the swearing-in, Roy parried questions on what he plans to do about the hike.
"Whatever I have to say I will say in Parliament as the Railway Budget is the property of Parliament," Roy said when asked if there will be any roll back in the hike in passenger fares.
Trivedi was forced out by Trinamool Congress after he incurred the wrath of party chief and West Bengal Chief Minister Mamata Banerjee who was opposed to his proposal to increase fares in the railway budget last Wednesday. Trivedi resigned on Sunday.
The Congress leadership caved in to the Trinamool demand for replacing him with Roy.
Yesterday, Mamata had indicated that the hike in the lower class fares proposed in the Railway budget may be rolled back.
Roy was later introduced to Rajya Sabha by Prime Minister Singh, while in the Lok Sabha Opposition BJP members objected to his absence when the House took up discussion on the Railway Budget.
Roy told Speaker Meira Kumar that he had rushed to the House the moment his introduction in Rajya Sabha was over.