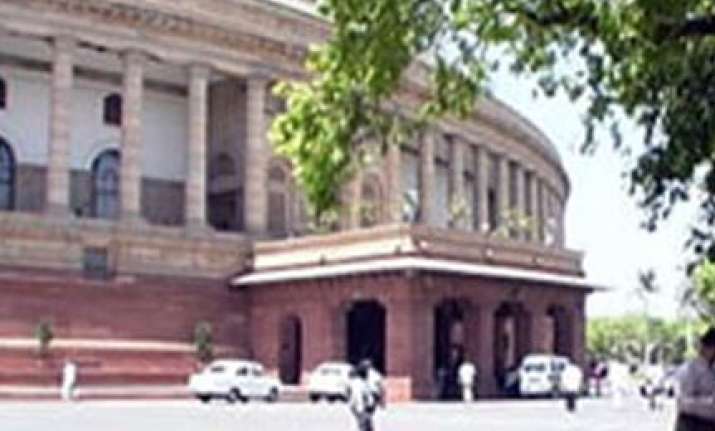 New Delhi :  After a hefty hike in salary and allowances last week, Members of Parliament today got another bonanza when the Union Cabinet today agreed to a further raise in their monthly allowances by Rs 10,000.
The Cabinet, which met under the chairmanship of Prime Minister Manmohan Singh, decided to increase the office and constituency allowances of MPs by Rs 5000 each per month.
 The decision come against the backdrop of lawmakers expressing unhappiness over the increase proposed by the Cabinet last week.
Their unhappiness arose from the rejection of the demand that the government accept the proposal of a Joint Parliamentary Committee to hike their salaries from Rs 16,000 to Rs 80,000. The MPs want their salary pegged at Rs.80,001, one rupee more than the salary of a Secretary in the government.
The government had  pegged the MPs' salary at Rs 50,000 per month.  Besides, it had hiked the office and constituency allowances from Rs 20,000 per month each to Rs 40,000 per month each.
Now, the constituency and office allowance of MPs would be Rs 45,000 each per month, government sources said.
The Lok Sabha had witnessed uproar last week by RJD, SP and JD-U members over government's decision with agitated members of these parties dubbing it as an insult to Parliament.
BJP, RJD, SP and JD-U leaders had a meeting with Finance Minister Pranab Mukherjee on Saturday over the issue after which the government had assured them to take appropriate steps.
Finance Minister Pranab Mukherjee moved the proposal for a hike in constituency and office allowances by Rs 5,000 each which was immediately approved by the Cabinet. These allowances are exempt from government taxes.
After stalling Parliament proceedings over the issue and even conducting a 'mock' Parliament on Friday, leaders of political parties had a meeting with Mukherjee on Saturday where it was decided to take their concerns on board.
The meeting was attended by Leader of the Opposition in Rajya Sabha Arun Jaitley, SP supremo Mulayam Singh Yadav, RJD chief Lalu Prasad and JD(U) president Sharad Yadav who pressed for hike in the salaries of MPs to Rs 80,001 as they were not satisfied with Rs 50,000 approved a day before by the Cabinet.
 BJP Deputy Leader in the Lok Sabha Gopinath Munde had said that the matter was left to Mukherjee.
 On Friday, the Cabinet had given its nod to increase basic salaries of the lawmakers from Rs 16,000 to Rs 50,000 per month.
 However, unhappy with the quantum of hike, parties like RJD, SP, Shiv Sena, Akali Dal protested in the House disrupting proceedings.
Following the today's Cabinet approval, the MPs will now get Rs 50,000 as basic salary, Rs 45,000 as office expenses and Rs 45,000 as constituency allowance.
The limit for interest-free loan for MPs for buying a personal vehicle has been hiked four-fold to Rs four lakh from the present Rs one lakh.
The government also approved a hike in road mileage rate for vehicles used by MPs from Rs 13 per km to Rs 16 per km.
The spouse of a parliamentarian can travel any number of times in first class or executive class.
Pension benefits have also been increased from Rs 8,000 to Rs 20,000 per month. PTI