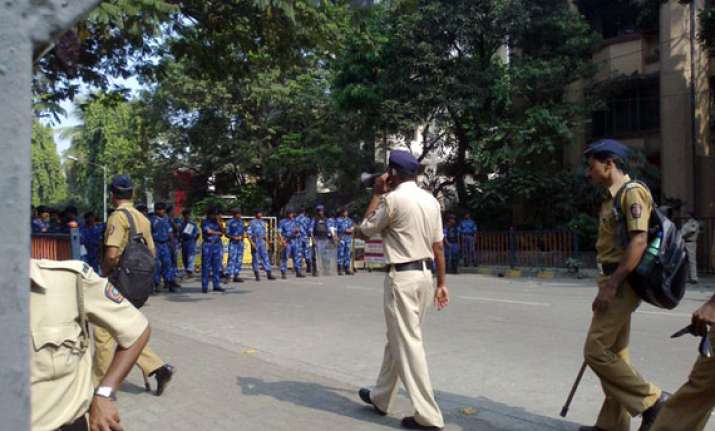 Mumbai, Nov 17: Mumbai and Maharashtra entered a state of mourning soon after Shiv Sena chief Bal Thackeray's death was announced Saturday afternoon.
Being a Saturday, most offices in the city and suburbs work half day, but those still open closed down and their staffers proceeded to their homes.
There was no panic or any kind of uncivil reaction anywhere in the city following the 86-year old leader's demise.
Shops and establishments, restaurants and even wayside tea stalls shut down, cinemas and theatres cancelled all their shows for the day, major public and private functions were also called off or postponed as a mark of respect to the departed leader.
Outside Matoshri, the Thackeray residence in Bandra East, floods of tears were witnessed as over 5,000 assembled Shiv Sainiks wept unabashedly for their beloved leader.
The normally aggressive and feared Shiv Sainiks Saturday grieved in public, tears streaming down their cheeks, voices choked as they consoled each other and prayed for Thackeray's soul.
All over Mumbai, Thane and Raigad -- considered Shiv Sena's traditional bastions -- all normal activities ground to a halt, as also in rest of Maharashtra.
Baliram Uke, a shocked tailor in Kelshi village in Ratnagiri, downed his shutter for the day, picked up a garland of flowers and went to his home nearby to offer a prayer for Thackeray.
In most towns and villages in the state, Shiv Sena 'shakhas' (branches) put up pictures of Thackeray with condolence messages to enable people pay their respects.
Mumbai Police, along with Rapid Action Force, State Reserve Police and other forces, have made elaborate security arrangements all over the western megapolis and other parts of the state to ward off any untoward incidents.
All Shiv Sena leaders have repeatedly over the past one week appealed to their party workers to "maintain peace and remain calm".
It had the desired effect -- people of Mumbai and Maharashtra as well as Shiv Sainiks have stoically accepted the reality and have chosen to peacefully mourn for their leader.
In fact, two days ago Shiv Sena executive president specifically urged his Sainiks "not to spoil the image of Matoshri" by indulging in any kind of violence.
"He was like a ray of hope and support for the ordinary Maharashtrian. The common Marathi feels orphaned," said Minakshi S., a lower middle-class housewife from Borivli, as she wept.
P. Neelima, a retired government official, said whatever may be people's opinions about Thackeray, "the fact was that Mumbai needed a tough person like him to instil a sense of safety among the masses."