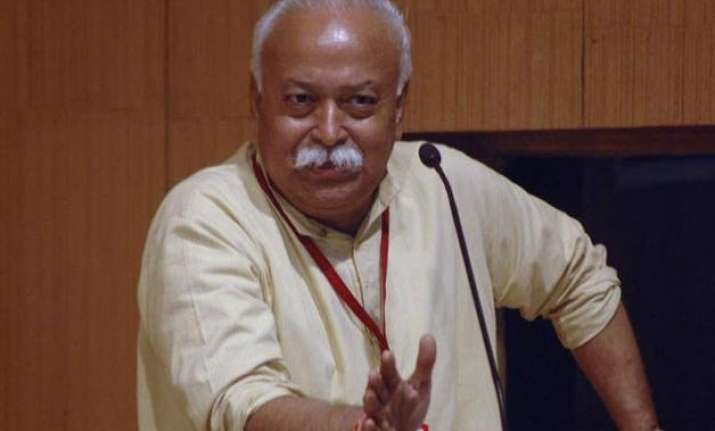 Varanasi: RSS chief Mohan Bhagwat has lavished praise on Lal Bahadur Shastri and said the time had come to promote the former prime minister's heritage.
He said "many people get the opportunity to hold positions like that of PM, but only a few like Lal Bahadur Shastri set an example by not compromising on ideals and a simple lifestyle".
His remarks came on the backdrop of the auction of Prime Minister Narendra Modi's pinstripe monogrammed suit. Contrary to Modi, Shahstri followed a very simple lifestyle, wearing khadi.
While speaking at the function that was organized to pay tribute to Shahstri and release a book on the former PM's life at his birthplace Ramnagar in Varanasi, Bhagwat said that Shastri's life was challenging since childhood but he never compromised on culture and the values of human life.
"He began his politics in the Congress and though he ruled the country as PM for only 18 months, he generated new hope among people. It was a difficult task at a difficult time, but Shastri made it possible. Had he returned alive from Tashkent, the fate of country would have been different."
Bhagwat went on to lavish praise on the former PM by calling him 'a bright sun in Indian politics.'
Shastri's son Sunil, who was also present at the function, told Times of India that his father did not get the credit he deserved after serving the country and the Congress for so long. He said that RSS is the only organization that can effectively take Shastri's legacy, ideology and contribution to countrymen.
During the function, the former prime minister's son Anil Shastri was also present, who along with Bhagwat spent nearly an hour at Shastri's ancestral house in Ramnagar, where works are underway to restore the house and turning it into a museum.
The book "Bharat Ratna Lal Bahadur Shastri" is written by Neeraja Madhav.