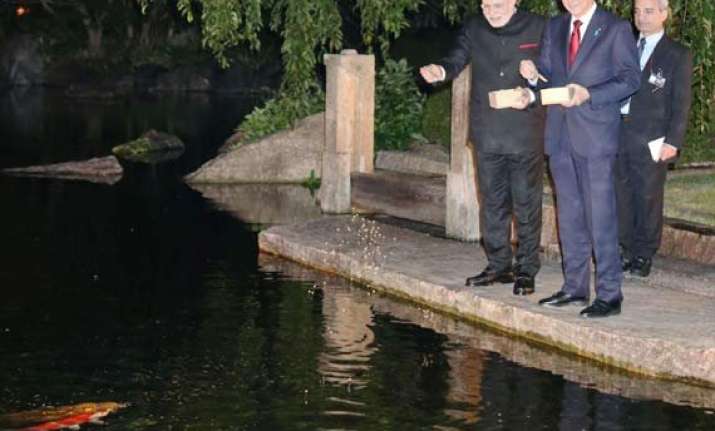 New Delhi: Fish is considered auspicious among Indians and many a customs indicate that before embarking on something new and important, one must get in touch with fish somehow. No wonder both Narendra Modi and Shinzo Abe jointly participated in a Japanese ritual called 'feeding the fish', which is considered to be auspicious beginning.
They went to a pond and gave the feed to the fish in it. Earlier, when Japan's Prime Minister Shinzo Abe broke the normal protocol to meet his Indian counterpart Narendra Modi today, it was a testimony of mutual admiration, bonding and personal rapport the two leaders share among themselves. After all, Modi  extended his Japan visit by a day signaling that the land of rising sun is among the places closest to his heart. This must have earned Modi a few more admirers in Japan.
Later in the evening, in the elegant setting of the Imperial Guest House in Kyoto, Prime Minister Modi sat down with his host, Prime Minister Abe, at a traditional dining table for over one and half hours for an exceptionally warm and friendly conversation over a traditional Japanese meal .  Their discussion was marked by a great deal of mutual respect and admiration and convergence of views.
The two Prime Ministers spoke about the ancient cultural and religious links between the countries, which were not known widely. They felt that the commencement of Prime Minister Modi's visit in Kyoto, the old capital city and an important centre of Buddhism, highlighted this important spiritual foundations of India-Japan relations.
They both keenly looked forward to visiting the ancient Toji Temple, which was a symbol of this link, the following morning. The MoU between Varanasi and Kyoto, signed earlier in the evening in their presence, was yet another reflection of working together to foster cooperation to address contemporary challenges on the strength of their shared heritage.
Prime Minister Modi also mentioned his plan to visit Centre for iPS Cell Research in Kyoto the Sunday morning as part of his desire to seek advanced solutions through stem cell research for health challenges he had seen in India.
Prime Minister Abe spoke with great enthusiasm and strong conviction about India and the importance of India-Japan relations for Japan and the region. Prime Minister Modi described Japan as one of India's closest and most important partners and spoke about his own admiration and affinity for Japan and his high hopes from the relationship.
The discussions covered Modinomics and Abenomics, and the opportunities that both countries had to seize the opportunities presented by their respective strong political mandates to inject new momentum and energy in their economies. They spoke with great optimism about a strong and robust future for India-Japan economic partnership. Prime Minister Modi observed that the relationship was far below potential and expressed hope that the two sides would strive to achieve in five years the unrealized potential of five decades.
Well, this display of strong personal bonding could have its seeds in some experiences that Narendra Modi went through as the chief minister of Gujarat. At the time when Narendra Modi was denied visa by the U.S.A in the aftermath of Gujarat riots, Japan showed friendliness and Modi's visits to Japan in 2007 and 2012 paved way for Japanese investments in Gujrat. When Shinzo Abe came back to power in 20112, Narendra Modi congratulated him with a phone call. No wonder, Abe also advocated for Modi's victory in the parliamentary elections.
Both the leaders share a modern, market oriented economic growth model, a nationalist approach that makes them popular among their domestic audiences and a desire to forge strategic alliances with Asian democracies. It is an interesting coincidence that both are September born- Narendra Modi was born on 17th September and Shinzo Abe on 21st September.
Another interesting similarity in their bio data is the fact that both are leaders born after two major events defining the politics of their countries, region and the world in totality. While Shizo Abe is Japan's first prime minister born after the Second World War, Narendra Modi is India's first prime minister born after India's independence from British rule in 1947.
Both Narendra Modi and Shinzo Abe have come to power after an atmosphere of political & economic instability and policy problems. Even though the Indian economy is showing signs of recovery, the food inflation remains a concern for the government as expressed by the finance minister Arun Jaitly on Saturday. Japan on the other hand is also grappling with weak economic indicators as according to recent reports, the falling wages and dropping household spending keep troubling the Abe government.  
Warm vibes between Prime Minister Narendra Modi and his Japanese counterpart Shinzo Abe were at display today as the Indian leader arrived here on five-day visit with an aim of raising the ties to a new level. Modi, who has been "excited" about the  visit, gifted books on Swami Vivekananda and a copy of Bhagawad Gita to Abe who made a special gesture of travelling here specially to meet the Indian Prime Minister in this historic city before their formal Summit meeting in Tokyo on Monday.
Abe, who has said "India has special place in my heart", received Modi at the guest house soon after the Indian Prime Minister reached here after landing at airport in neighbouring Osaka and driving down a journey of about two hours.
Modi presented to Abe a special commemorative edition of 'Swami Vivekananda and Japan- excerpts from the life and works of Swami Vivekanand and 'Vivekananda in Japan' by Swami Medhasananda' and a copy of the Bhagawada Gita. In addition to the Sanskrit version, a Japanese version of the Bhagawad Gita was also presented to Abe.
Japanese Prime Minister will also treat Modi to special 'Chai' (tea) on Monday in Tokyo.