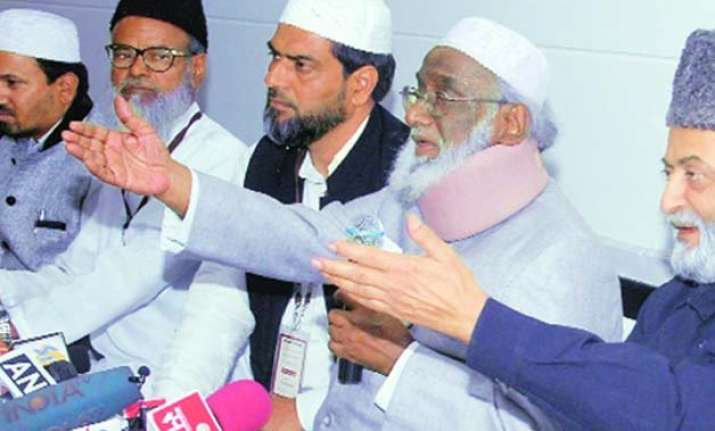 Jaipur: Expressing concern over rise in incidents of religious intolerance in the country, the All India Muslim Personal Law Board on Sunday passed a resolution to launch a parallel campaign to counter 'ghar wapsi' propaganda of the RSS and its affiliates.
"We're concerned about the situation in the country which has worsened after Narendra Modi became the PM. Not only Muslims, but Christians are also feeling uncomfortable," said AIMPLB secretary Abdul Rahim Qureshi, after a two-day convention of the board in Jaipur.
The board also said that right-wing forces have become "active against the minorities after the formation of new government at the Centre".
"In the face of such difficult times, we have decided to set up a committee and create awareness among members of the community to stand up for their constitutional rights, which is a secure secular environment," Qureshi added.
Accusing the Narendra Modi government of turning blind eye to the Hindu forces flaring communal tensions in the country, the board urged Indian Muslims not to compromise on tenets of Islam and to crush the mischievous elements hell bent upon shredding the secular fabric of the country."
Over 250 members of the body gathered in the state capital for a two-day convention on March 21 and 22 for their annual general body meeting, which also included issues such as the Rajasthan government's decision to introduce compulsory Surya Namaskar in schools, introduction of yoga in the curriculum in Madhya Pradesh and Haryana schools, Ghar Wapasi and repealment of Mussalman Wakf Validating Acts 1913 and 1930.
The two day event also witnessed a drama when Zafar Sareshwala, a confidante of PM Narendra Modi, turned up to participate but had to leave as various participants objected, saying he was not a member and shouted slogans against him.
"Introducing Surya Namaskar compulsory in schools go against our religion. According to Islam, we cannot worship anything except our life giver. The sun is not worshipped by us and how can anyone force us to do it? Ever since Modi came to power, Hindutva forces have become powerful. Ghar wapasi is being held and the right wing forces are spewing venom against Muslims and Christians," Qureshi added.
The AIMPLB, however, is not keen on sending a delegation to meet the Prime Minister.