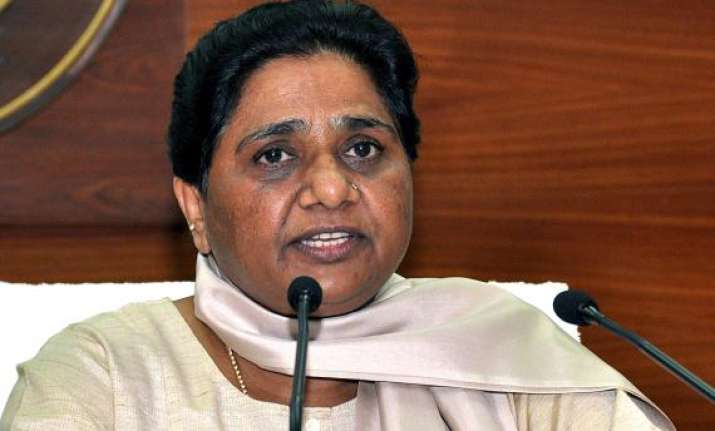 Lucknow, Dec 18: Favouring reservation for Muslims, Uttar Pradesh Chief Minister Mayawati today said that 27 per cent OBC quota should be increased by making constitutional amendment to include backward muslims in it.

"BSP government favours quota for muslims. The Centre should amend the constitution and increase 27 per cent quota of OBCs to include muslims in it. Our party will support it," Mayawati said addressing a rally here.

Mayawati said that for providing a reservation, a national policy should be formulated so that same system should be in place in the entire country. Alleging that Congress always betrayed muslims, she said that it used muslims as mere vote banks and did nothing for their welfare.

"In the Congress regime, the country witnessed maximum riots which had a deep impact in the minds of muslims. The community had to live in fear for 40 years in Congress rule in the state," the Uttar Pradesh Chief Minister said.

Claiming that due to the soft stance of Congress towards BJP, its associate organisations like RSS, VHP and Bajrang Dal got strengthened, Mayawati said it resulted in the Ayodhya incident of December six, 1992 (Babri mosque demolition) due to which the community started feeling insecure.

"The BSP has given maximum number of tickets to muslims in Lok Sabha and Assembly polls," she claimed adding that other parties deliberately ignored the community.

Stating that SP supremo Mulayam Singh Yadav's statement during Ayodhya incident created tension and riots, Mayawati said that in her government law and order was utmost priority and no incident was reported post-Ayodhya title dispute decision.

Condemning association of muslim community with terrorists, Mayawati said that terrorists did not have any caste and associating them with a particular community was wrong.

Emphasising the need for finding the root cause of rising terrorism, Mayawati asked the Centre to step up intelligece and timely share information with states to thwart terrorist activities.

Mayawati also alleged that Central funds on various head for muslim welfare were not reaching the state timely.