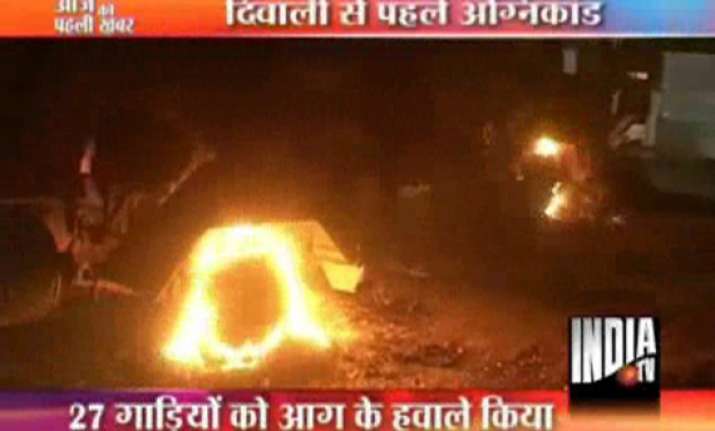 Sambalpur, Orissa, Oct 27: Maoists on Tuesday  set fire to 27 trucks of ARSS  construction company in  Mundher village of Sambalpur district. They exploded bombs and used diesel to set  fore to 27 tippers and trucks used by  the private construction company. Later, they released the all the staff unhurt.

Nearly  50 armed Maoists took around 80  employees of  ARSS construction company as hostages during the operation.  Later, as they escaped they took away  a gun from the private security guards.   Police reached the spot after the Maoists had fled.
 
Soon after, the state police launched combing operation in the area in which some Maoist leaders escaped after an encounter . Security forces launched a raid on a camp at Jadu Loisingh forest in Orissa's Sambalpur district on wednesday.

Maoist leaders Girish Mahato of Jharkhand, Kunu Dehuri of Orissa and others escaped from the camp as the Maoists and security personnel traded fire, Sambalpur Superintendent of Police Nikhil Kanodia said.

The Maoists fired 150 rounds, which was retaliated by 300 rounds and 16 grenades by the security forces but none was killed or injured, Kanodia said.
 
The security forces seized a gun, three cartridges and five grenades from the camp. The security forces comprised the Special Operations Group, CRPF and District Voluntary Force.
 
Police sources said the gun seized was snatched from the security guard of the private construction company yesterday.