Follow us on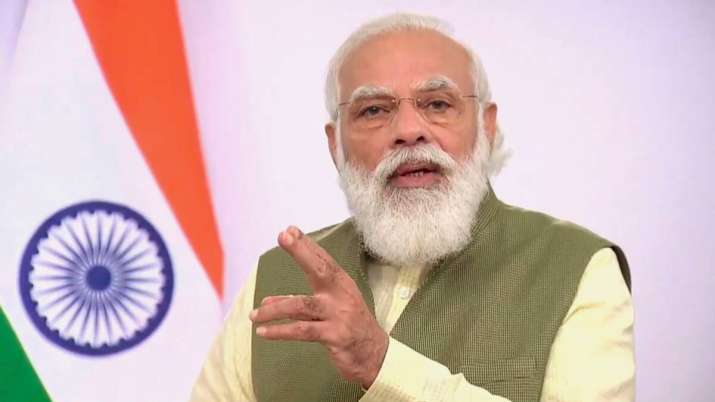 Prime Minister Narendra Modi on Sunday addressed the nation through his monthly radio programme Mann Ki Baat. This was the 79th edition of the programme. Earlier on June 27, during the 78th edition of Mann Ki Baat, Modi had said players taking part in the Tokyo Olympics have struggled to get to where they are and advised citizens to not pressurise the players knowingly or unknowingly. He had also said citizens should support the players with an open mind and encourage them. He also paid a tribute to the legendary sprinter Milkha Singh, who succumbed to COVID-19 on June 19.
Mann Ki Baat HIGHLIGHTS
11:32 am: In Tamil Nadu's Nilgiri, Radhika Shastri Ji has started Amburx Project, which aims at provinding easy transport facilities in hilly areas to patients for treatment. She collected funds from her colleagues at a cafe that she runs. Today, there are 6 Amburx in service: PM Modi
11:29 am: In Chandigarh's Sector 29, Sanjay Rana Ji runs a food stall and sells 'Chhole Bhature' on cycle. To eat his delicious 'Chhole Bhature' for free, you will have to show that you have taken the (COVID-19) vaccine on the same day: PM Narendra Modi at 'Mann Ki Baat'
11:26 am: After COVID-19, the cultivation of 'Ber' is increasing. My one such young friend is 32 years old Bikramjeet Chakma from Unakoti, Tripura. He has earned a sizable profit after starting 'ber' cultivation & motivating people for its cultivation: PM Modi at 'Mann Ki Baat'
11:25 am: Nowadays, apple cultivation is gaining traction in Ukhrul, Manipur. Farmers here are now cultivating apples in orchards. These people also went to Himachal to take proper training. One of them is TS Ringphami Young. He is an aeronautical engineer by profession: PM Narendra Modi
11:19: A recent study by MyGov found that about 75 per cent of those who send their message and suggestions to Mann Ki Baat are below 35 years. It means Mann Ki Baat is being guided by the views of the youth of India. Mann Ki Baat is a medium where there is positivity and sensitivity: PM Modi
11:12 am: Tomorrow is Kargil Vijay Diwas. Kargil war is such a symbol of valour and discipline of our armed forces which the entire world has witnessed. I would like you to read the thrilling story of Kargil. Let us all salute the brave hearts of Kargil: PM Narendra Modi at 'Mann Ki Baat'
11:04 am: To support our Olympics team on social media, the 'Victory Punch Campaign' has already begun. You also share your victory punch along with your team and cheer for India: PM Narendra Modi at 'Mann Ki Baat'
'Mann Ki Baat' radio programme generated over Rs 30.80 crore revenue since 2014: Govt
Meanwhile, the Rajya Sabha was last week informed that 'Mann Ki Baat' has fetched over Rs 30.80 crore as revenue since it began in 2014, with the highest of over Rs 10.64 crore earned in 2017-18. 
"Prasar Bharati has broadcast 78 episodes of the 'Mann Ki Baat' programme till date on its All India Radio and Doordarshan network and also on the social media platform," Information and Broadcasting Minister Anurag Thakur told Rajya Sabha in a written reply to a question.
This programme is also broadcast by approximately 91 private satellite TV channels on Cable and DTH platforms across the country, he said.
According to data shared by the ministry in its reply, the programme fetched Rs 1.16 crore as revenue in 2014-15, Rs 2.81 crore in 2015-16, over Rs 5.14 crore in 2016-17 and over Rs 10.64 crore in 2017-18.
It generated Rs 7.47 crore revenue in 2018-19, Rs 2.56 crore in 2019-20 and Rs 1.02 crore in 2020-21.
"As India's most popular televised radio programme, 'Mann Ki Baat' has substantial audience following," the minister said.