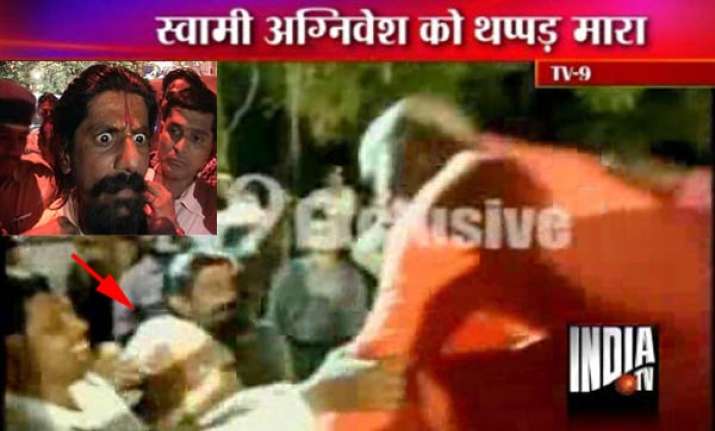 Ahmedabad, May 27 : A man called Mahant Nityanand had a garland with him on Thursday evening as he beckoned Swami Agnivesh after an Anna Hazare meeting to come down the dais.
 
As the eager Swami Agnivesh  moves his neck forward to take the garland, the man  garlanded him, only to pull him  forward, and gave him a resounding slap on his cheek even as the Swami's pagri fell, reports India TV correspondent Nirnay Kapoor.
 
Swami Agnivesh flew into a rage, but he kept control on his anger in the presence of nearly 5,000 people.
 
Meanwhile, onlookers caught hold of the Mahant and handed him over to the police.
 
 Says Nityanand, I was perturbed over Swami Agnivesh describing Amarnath shiv lingam as a natural phenomenon.
 
A resident of Kheda, Gujarat, Nityanand had travelled 43 km to teach Agnivesh a lesson for his Amarnath remark.  Nityanand has offered to pay Rs 51,000 reward to any body who can throw a shoe at Swami Agnivesh.