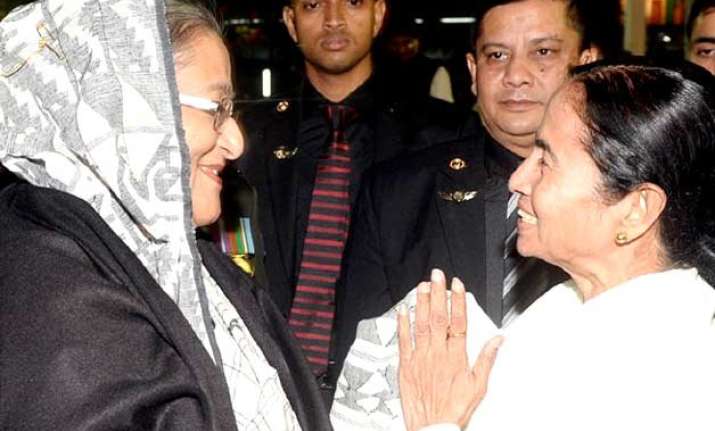 New Delhi: West Bengal Chief Minister Mamata Banerjee on Saturday assured Bangladeshi Prime Minister Sheikh Hasina of a breakthrough on the Teesta river issue.
"This is a beginning. We want all pending issues to be resolved and have to see that both countries benefit," Mamata said after her meeting with Hasina.
Stating that she expects the Parliament to ratify the land border agreement on exchange of enclaves during the budget session, she said: "The land boundary issue will be resolved. The only pending issue will be Teesta. Trust me, I will work on this to resolve it," she said.
The reassurance on Teesta came a day after the West Bengal chief minister told a function of litterateurs and cultural figures to have trust on her on the Teesta issue.
The Teesta water sharing pact had been put on hold after Banerjee's strong opposition over fears that the treaty could spell disaster for the northern part of her state.
Terming the visit as very successful, Hasina's media adviser Iqbal S Chowdhury told newspersons that Mamata herself raised the Teesta issue during the meet.
"She assured Hasina of playing a positive role on the issue of water sharing and protecting the interests of Bangladesh and India. She also said she can understand the plight of people in enclaves," Chowdhury said. He added that the meeting was very cordial and the two leaders addressed each other as "sisters".
Later, on a lighter note, Mamata told reporters that she had urged the Bangladesh PM to lift a ban on Hilsa export to India in view of its massive demand in Bengal, and a laughing Hasina had replied, "If (Teesta) water comes, Hilsa will also go".
The Teesta, which originates in Sikkim, flows through the northern part of West Bengal before entering Bangladesh and joining the Brahmaputra River. Its flow is crucial for Bangladesh in the dry period from December to March when the water flow often falls to less than 1,000 cusecs.