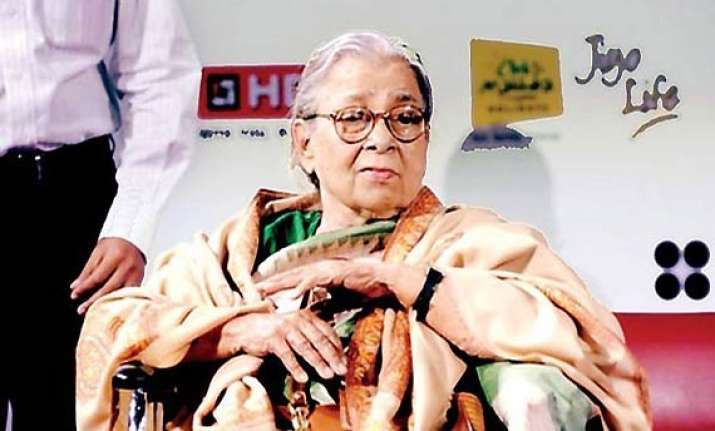 Kolkata, Nov 21: Writer-activist Mahasweta Devi today called the West Bengal government as 'fascist' and alleged that it was trying to gag people's voices, a charge dismissed by Chief Minister Mamata Banerjee as "unacceptable". 

"The people are denied of their legitimate right to protest and this is nothing but a fascist attitude. The government will have to withdraw the undemocratic diktat," Devi, who had actively campaigned for Trinamool Congress in West Bengal Assembly election, told reporters here. 

The Magsaysay award winner was reacting to the denial of permission by the government to Association for Protection of Democratic Rights (APDR) to hold a hunger strike and sit-in demonstration on November 23 and 24 in the city demanding withdrawal of joint forces from 'junglemahal', the Unlawful Activities (Prevention) Act and release of political prisoners.

"What has not happened in the last 64 years in West Bengal happened today. The people were robbed of their natural right to protest," she said at the press conference organised by APDR and 21 other human rights organisations. 

Reacting to Devi's remark that democratic rights were being taken away by the state, Banerjee said she cannot accept it.

"I honour Mahasweta Devi and her age. But I cannot accept all that she has said. I saw on the TV that she was being prompted from behind."

"I am grateful for being called a fascist. But I would like to suggest that terrorism should not be encouraged in the process," Mamata said.

She charged the Maoist sympathisers with muddying the waters and said, "They do not want peace to return to junglemahal and thrive on their share of the loot.  "Action can be taken against those glorifying Maoists.  But the state government has not yet taken any action against them."

Dubbing the APDR as a 'Maoist organisation' and 'wearing a Maoist mask', she said, "There is no public support behind them. These are just signboards."

Earlier, asked if her hopes of good governance were dashed, Devi said, "I have protested against injustice of the Left regime and the entire country knows me as a rebel writer and for that I have received Padma Bibhusan and Magsaysay award."

On questioned whether she has any sympathy for the Maoists, she said, "I don't believe in the politics of violence and killing of people but what joint forces are doing is also not justifiable democratically."

She demanded that the joint forces be withdrawn first and the government take the initiative for peace talks.