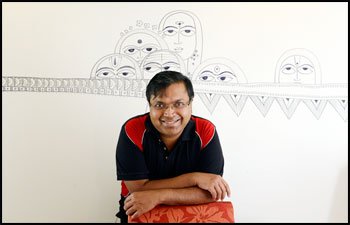 New Delhi: It's 21st century and we are the internet generation. Those eras of writing manuscripts and letters are completely over. Today social media plays a vital role in expressing  thoughts. And following the trend of e-generation, Devdutt Pattanaik, has retold the entire Mahabharata in just 36 tweets.
Originally, story of Mahabharata is contained in 18 chapters (parvas) and over 1 lakh verses. Devdutt has retold the entire Sanskrit epic in just 36 (18x2) tweets.
Devidutt Pattanaik is an author and a mythologist and has written a number of books related to Hindu mythology including Myth = Mithya: A Handbook of Hindu Mythology, a novel, The Pregnant King, and Jaya: An Illustrated Retelling of the Mahabharata (2010), Shikhandi: And Other Tales They don't Tell You, India is not chaotic.
To polish his skills in Mythology, Devdutt pursued a course in Comparative Mythology from Mumbai University.
Devdutt worked for 14 years in the pharma and healthcare industry before he decided to start authoring books.
It's no mean achievement on Devdutta's part to have retold a great epic like Mahabharat  in just 36 tweets.
Devdutta has done a great favour to those who were interested in reading Mahabharata but had no time to go through the voluminous book.
Here we are compiling the 36 tweets of Devdutta Pattanaik that sum up the entire Mahabharata story: