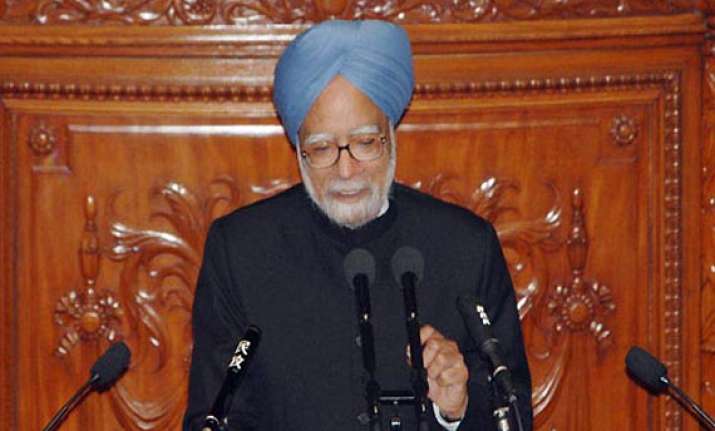 New Delhi, Dec 14: As he met leaders of various political parties, Prime Minister Manmohan Singh today said he was keen to see the "momentous" Lokpal Bill passed during the current session of Parliament based on a consensus that is driven by the House as the "custodian of legislation".

"The government is committed to implement in letter and spirit a good and effective Lokpal Bill that would have a quick and positive impact in further curbing the cancer of corruption without any adverse effects on the efficiency of our system of public administration," he said in his opening remarks at the all-party meet.

Seeking "guidance and cooperation in this matter of paramount importance", Singh said the Lokpal Bill issue should not be subjected to party politics.

"I am personally keen that this momentous legislation should be passed on the basis of consensus among all parties as far as possible and that this should not be subjected to party politics in any way," he said.

Asking everyone to "keep the interests of the country foremost in our minds", he said "the government is also keen that we must make all efforts to pass a Lokpal Bill in this very session that is based on consensus and that is driven by Parliament as the custodian of legislation."

He wanted leaders of the parties to indicate how far the recommendations of the Parliamentary Standing Committee meet the sense of Parliament and how far the various provisions are feasible and efficacious.

The Prime Minister said the Standing Committee on Law and Justice and Personnel, which examined the Lokpal Bill, had done "very valuable work in record time" for which he thanked its Chairman Abhishek Singhvi and his colleagues.

He reminded the leaders of the political parties about the full discussion that took place in Parliament before the draft Lokpal Bill was referred to the Standing Committee.

Based on that discussion, Finance Minister Pranab Mukherjee had made a statement on the same day in both the Houses of Parliament about the "sense" of the two Houses, Singh said.

He also noted that he had, in his letter of August 27, requested Anna Hazare to end his fast.

"I had said that Parliament had agreed in principle on three matters. These were the Citizen's Charter, the inclusion of lower bureaucracy under the Lokpal through an appropriate mechanism and the establishment of Lokayukta in the states," he recalled.

The sense of the Houses and the records of discussions in Parliament had then been conveyed to the Standing Committee for their guidance, he said.