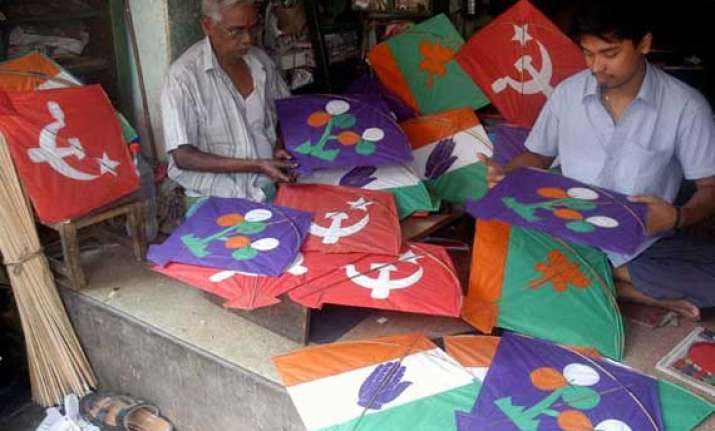 Kolkata: If you see a green kite entangled with a red kite in the skies, prepare to read into it much more than just a neighbourhood kite duel.  
Adopting new means to campaign and reach out to voters, political parties are now ordering for kites wearing their party colours and bearing party symbols.  
Bablu Sen, who runs the famous shop 'Bengal Kites' in north Kolkata's Santosh Mitra Square, has stocked up on such "political kites" for supporters of Trinamool Congress, BJP, Congress and CPI(M).
"Trinamool has ordered 2000 kites. Besides being green in colour it has the party symbol of tri-coloured flower and grass. A printed photo of Mamata Banerjee's photograph is also included on the face of the kite," the kite-maker said.  
He says that being a cheap option, party workers are distributing kites to patrons.
Ahead of polling on May 12 in the metropolis, his sales have shot up as supporters of various political parties are queueing up outside his shop.
"Everyone who comes here these days wants to see the political kites even if they don't buy one. Therefore, I have displayed kites of all parties properly so that no party feels left out," Sen says.