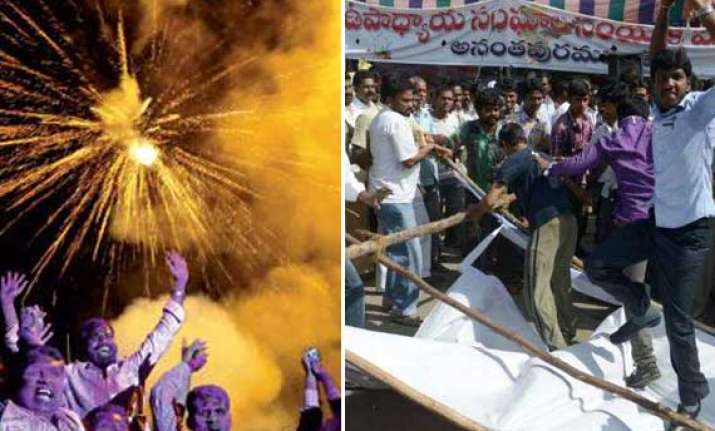 Hyderabad/Vijaywada: Seemandhra region in Andhra Pradesh witnessed protests as people gave vent to their anger against the passage of the Telangana bill in Lok Sabha, even as police stepped up security to thwart trouble.
United Andhra supporters including members of the opposition parties and students took to the streets, held demonstrations and resorted to road blockades in Anantapur, Nellore, Prakasam, Guntur, East Godavari, West Godavari, Krishna, Visakhapatnam and Chittoor districts and other parts Seemandhra region.
State DGP B Prasada Rao told PTI that barring a few protests and dharnas, the situation in Seemandhra is under control. "We may seek additional forces, depending upon the situation," he said.
"The situation is tense...But under control. So far, the protests have been peaceful. However, we have called for additional forces (two companies of central paramilitary forces) as a precautionary measure," IGP (Guntur Range), P V Sunil Kumar, said.
"After the passage of the Telangana Bill, we are anticipating agitations and hence we have tightened security. Paramilitary force and state police personnel were deployed at different places to thwart any attempts to disturb law and order. Security has been stepped up at public places, around statues, including residences of public representatives and state and Union ministers from Seemandhra," Anantapur district Superintendent of Police S Senthil Kumar said.