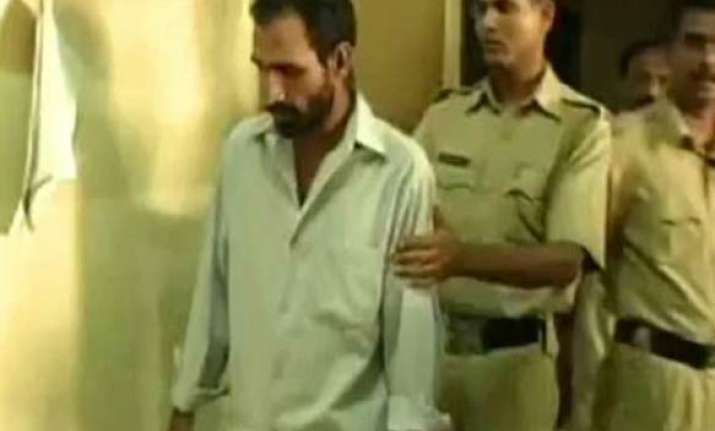 Panaji, Jun 11: A court in Goa on Friday sentenced "serial killer" Mahanand Naik to life imprisonment for murdering a 32-year-old woman at Bambolim village in 2007.North Goa Principal Sessions Judge Nutan Sardesai sentenced the 40-year-old to life in prison after the prosecution did not press for death sentence.

This was the first conviction for Naik who was wasaccused of murdering at least 18 women in the state over one-and-half decades. He has been acquitted in seven cases till now.The court also imposed a fine of Rs 1.3 lakh on him for the murder at Bambolim near here.


Clad in a light green formal shirt and dark blue jeans, Naik showed no emotion as the judge read out the order. He, however, smiled at the waiting journalists as he came out of the court.

Police had chargesheeted Naik for killing Susheela Fatarpekar on October 24, 2007. The killer allegedly removed ornaments from Susheela's body after strangling her to death using a 'dupatta' and dumped the body on a plateau. The victim was working as a sweeper in a private firm.

He was chargesheeted under IPC sections 364 (kidnapping or abduction in order to murder), 302 (murder),392 (robbery) and 201 (destruction of evidence). The
prosecution had examined 21 witnesses.Naik, a resident of Shiroda village, was arrested on April 21, 2009 for allegedly raping his wife's friend. During custodial interrogation, he confessed to a string of murders, according to police.

In 2009, the serial lady killer had confessed to killing of four young women living near Taravalem village adjoining Ponda in the last 15 years.
The frail looking married man, who is having a six year old daughter, was a former rickshaw driver. His wife used to work with Indian Council for Agricultural Research. Mahananda used to befriend girls and kill them by luring them to isolated spots.

In May, 2009, Mahanand's house was burnt to ashes by a violent mob after he confessed to killing three girls."All girls hail from lower middle class families who used to get entrapped in Mahanand's net as he used to promise them to get married," a police officer says.


The list of Mahanand's prey includes – Darshana Naik (1994), Vasanti Gawade (1995), Kesar Naik (2007) and Yogita Naik (2009). While in two cases he abandoned the body, in rest two he threw them in river after robbing the gold.

Many victims would have been saved from the agony, if Mahanand was arrested in 1995 itself.DSP Serafin Dias says, police had arrested Mahanand in 1995 when Vasanti Gawade's cousin, Raghunath, had told the police that his sister was seen last time with the killer.

"Police had to release him after rickshaw operators from Ponda city led morcha to the police station in support of Mahanand," the DSP said.Mahanand used to operate rickshaw of his own till 2005 and gave up the profession after his vehicle became old and had to be scrapped. He was unemployed since then.Mahanand was arrested on April 20, 2009. Mahanand's wife has shifted to her parents' house in Sanvordem town.