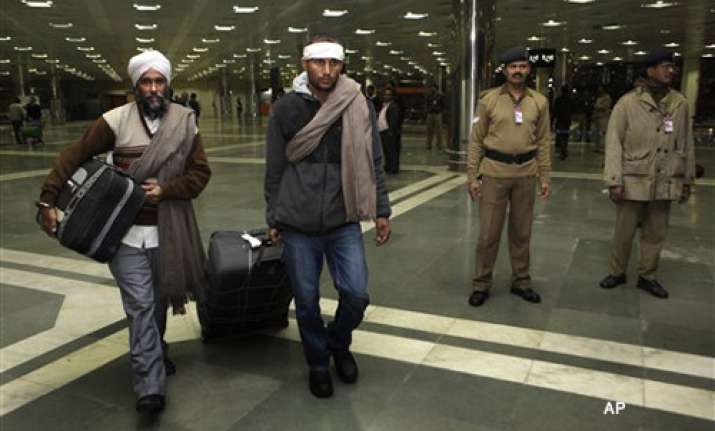 New Delhi, Feb 27: Heaving a sigh of relief as they returned home 'safely' today, hundreds of Indians from Libya recounted the ordeal they underwent being confined to their homes without food ever since anti-Government protests began in the North African nation two weeks back. With fear still writ large on their faces, they gave an account of the tales of fear, horror and looting to mediapersons at the Indira Gandhi International Airport in the wee hours.
Mohammed Sali, hailing from Kochi in Kerala and who has been living in Libya for the past 31 years, said many people went without food and water for days as the situation turned from bad to worse in Libya, where Muammar Gaddafi is facing large-scale revolt against his regime."Ever since the protests began, people started fearing for their lives. I along with a few Indians were stuck in a camp for two days and some people looted all our belongings like laptops and phones," he said.
The engineer said there is "no rule of law" in Libya ever since the uprising began in mid-February and many police stations in capital Tripoli have been burnt down by protesters."We had to face arson and loot by locals," he said and thanked a group of Libyans, who gave him and a few others shelter. Karamvir, a carpenter working for a construction company, said he will never go back to Libya even if situation returns to normal there.
"The situation is very bad. People are looting. They are even killing. There is no police. There is no safety," he said. The people also thanked the Indian Government for making arrangements to bring them back home. Dr Navbir, who has been living alone in Libya for the past few years, said she had never felt unsafe in the country
till the protests broke out. Never did I feel that I was in a foreign country.Even when I was coming to board the flight, people asked me not to go," she said.
Navbir said the Tripoli Airport was a scene of utter choas as people have to wait for at least 10 hours to get into the airport.There is a long queue to enter the Tripoli airport and it took 15 hours to reach the check-in counter from the airport entrance," she said.
The story of Mobin Qureshi, a resident of Bijnor in Uttar Pradesh, is a little different. "There is no one to help us... All houses were burnt down and we went without food...Situation of Indians, especially who are residing in workers' camps, is very bad as the camps have been burnt down and there is no shelter, food and water," he said.
A total of 528 Indians have so far been brought back to the country by two Air India planes.  PTI