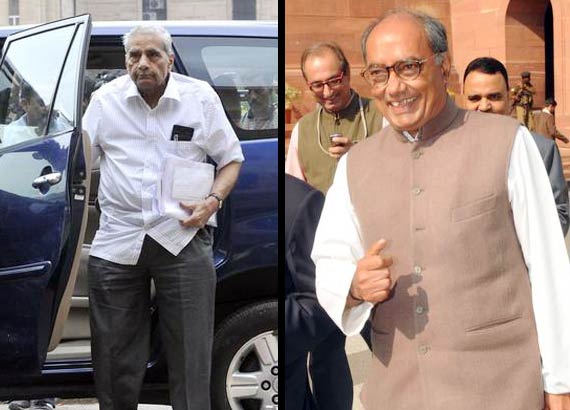 Lucknow, Apr 21: In tandem with expelled SP leader Amar Singh, Congress general secretary Digvijay Singh today fired fresh salvoes at the Shanti-Prashant Bhushan father-son duo, challenging them to clarify on the low stamp duty paid on their Allahabad property and the allotment of two prime farmhouse plots in Noida.

Addressing a press conference, Digvijay Singh said: "I leave it to the conscience of Shanti Bhushan whether he wants to stay in the Joint Drafting Committee on Lokpal Bill or not."

The Congress leader said, Shanti Bhushan valued his 7,500 sq metre plot and bungalow on Allahabad's posh Civil Lines at Rs 1 lakh and paid stamp duty accordingly. "I am yet to receive their defamation notices", he added.

"And let me tell them, they cannot browbeat me by threatening defamation, I have faced so many such notices in my public life", said Singh.

Digvijay Singh explained his appearance with Amar Singh at a school unction in Farrukhabad saying it was a non-political function and no political motive should be attributed to it.

Lashing out at the NDA, Digvijay Singh said, the NDA govt never took action in the cases of Bangaru Laxman, Dilip Judeo and Jaya Jetley taking bribes, nor did it take action in the UTI scam, Centaur Hotel sale, Balco sale, and on corruption charges against MP, Chhatisgarh and Karnataka chief ministers.

On the other hand, he claimed, Congress took action in 2G scam, CWG scam, Adarsh scam. He failed to mention that the Centre took action in 2G scam only after the Supreme Court prodded the government to do so.

It was due to stringent action taken by the government that former telecom minister A Raja, senior bureaucrats and his associates were in the jail, he said.

He said that Money Laundering Act was brought by the Congress led government and as a result former Chief Minister of Jharkhand Madhu Koda was sent to jail.

"Nobody was spared. Situation is such that under 2G case, top officials of big corporate houses were arrested and are in jail," he said.

"I would like to ask the opposition that which government took such stringent action," he added.

Digvijay Singh said if Anna Hazare started a 'satyagrah' in Uttar Pradesh against corruption, his party would welcome and support it.

"The Uttar Pradesh government has created records in corruption. We demand Gandhian Anna Hazare that like Maharashtra, he should start a 'satyagrah' against corruption," Singh  said.

"We will not only welcome and completely support his satyagrah, but will also provide relevant documents to him," he added.

He said that Congress president Sonia Gandhi was the first politician to support Hazare.

He, however, raised doubts over effectiveness of Jan Lokpal Bill.

"The Congress is fighting against corruption, but it cannot be checked only by Jan Lokpal bill," he said.

The Congress leader said that the judiciary should decide disproportionate cases, including those against Mayawati and Mulayam Singh Yadav.

He also said that discretionary powers of the government be reduced and law should be simplified so that there is no chance of corruption.

On Swami Ramdev, the Congress leader said that he should carry on with his work of teaching yogasanas.

"If he talks about black money then he should reveal that from where Rs 1,100 crore came in the last seven to eight years. Then he should also clarify that whether the money he accepted was black money  or in white" he said.