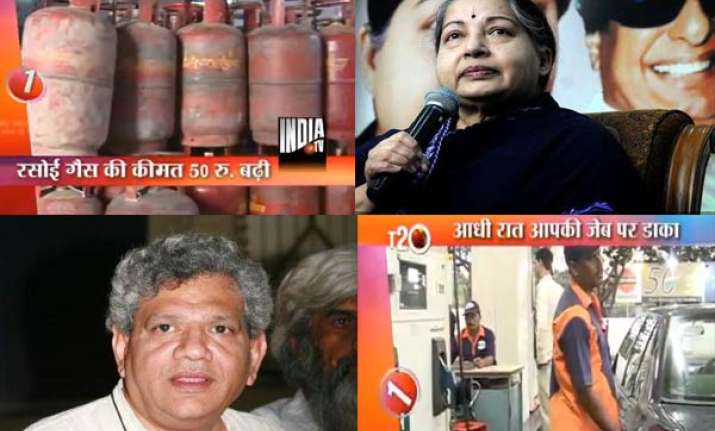 New Delhi, Jun 25: Slamming the government for the fuel price hike, the Left parties today demanded its immediate rollback and asked their units to organise protest actions all over the country.

Attacking the government for "striking another blow" to the 'aam admi', they said the hikes come at a time "when the people are suffering from all round price rise and the inflation rate has crossed nine per cent".

Asking all their units to immediately conduct hartals, demonstrations and other protest actions, the CPI(M), CPI, RSP and Forward Bloc said it was "another cruel blow" to the common people as the increase in diesel price would raise the transportation cost and affect farmers, while those in kerosene and LPG cylinders would burden the poor.
In a joint statement, the parties said the withdrawal of five percentage points in customs duty on crude oil, imposed last year, "shows how such taxes are levied by the Centre to raise revenue and this is the main cause for the high prices of petroleum products"."Yet, the government refuses to restructure the taxes on petroleum products and give up the ad valorem tax", the four Left parties said, demanding that the hike be withdrawn immediately.

The statement was signed by CPI(M) General Secretary Prakash Karat, CPI's A B Bardhan, RSP's T J Chandrachoodan and Forward Bloc's Debabrata Biswas.CPI National Secretary D Raja accused the government of kneeling down before market forces and corporate houses and demanded immediate roll back of prices. Observing that the move came immediately after the assembly polls, he said, "There is no transparency in the oil sector. No one knows what the spot price of crude is, the cost of refining it and the real component of taxes." Accusing the government of allowing corporate houses to plunder indigenous resources like natural gas, he said this has been recently exposed by the Kaveri-Godavari basin gas scandal.

"The Supreme Court has said that natural gases are national assets. How does the government gives this national asset on a platter to corporate houses.CPI(M) leader Sitaram Yechury termed the hikes "completely unacceptable" and said "Government had committed to zero duty on petroleum products when it deregulated their prices. It has not stuck to its promise. Instead, it is imposing a burden on the people." Chennai : MDMK leader Vaiko today said he would lead a state-wide agitation on June 28 to condemn the price hike and demand its immediate rollback. In a statement here, Vaiko said the agitation would be held in Chennai and other district headquarters including Villupuram, Nagercoil and Tanjavur.

Vaiko said that the latest price hike would only benefit oil companies but would severely affect the common man. government has always treated the oil sector as a revenue generating sector by burdening the common people. There is no transparency in this sector, no one knows what spot price of crude is and the real component of taxes."

Accusing the government of allowing corporate houses to plunder indigenous resources like natural gas, he said this has been recently exposed by the KG basin gas scandal. "The Supreme Court has said that natural gases are national assets. How does the government gives this national asset on a platter to corporate houses. Last year Parliament had passed a unanimous resolution that government would take steps to curb inflation.One year has passed and the government has failed to control prices," he said.

He said food inflation is "unprecedented" high and now the fuel price hikes will have cascading effect on the prices of food items."The Manmohan Singh government, though duly elected by the people, is kneeling down before market forces and corporate houses. The hike is totally unjustified and should be rolled back," he said.

Meanwhile, the BJP dared the UPA allies opposing this price hike to come clear on their stand and leave the alliance in support of the common man, instead of doing mere lip service. "The step to increase the LPG and diesel prices is an inhuman step, considering that this government has not taken any measures to contain food inflation", said party spokesperson Nirmala Sitharaman. Tamil Nadu Chief Minister Jayalalithaa described as "unacceptable" the fuel price hike and demanded its immediate rollback.

"The price of LPG, which is being used by all strata of people has been increased by Rs 50. People cannot tolerate this. Further, the price of kerosene has also been increased by Rs 2. This will severely affect the poor people as they are the main consumers of kerosene" Jayalalithaa said in a statement in Chennai.
On the increase in diesel price by Rs 3 a litre, she said it would have a cascading effect on the prices of most commodities, including vegetables, as they are transported by road.

"When there is an overall rise in prices, this hike in fuel prices would severely affect the people. I, therefore,would like to insist that the Centre should immediately roll back the hike in prices of diesel, kerosene and LPG," she said.PTI