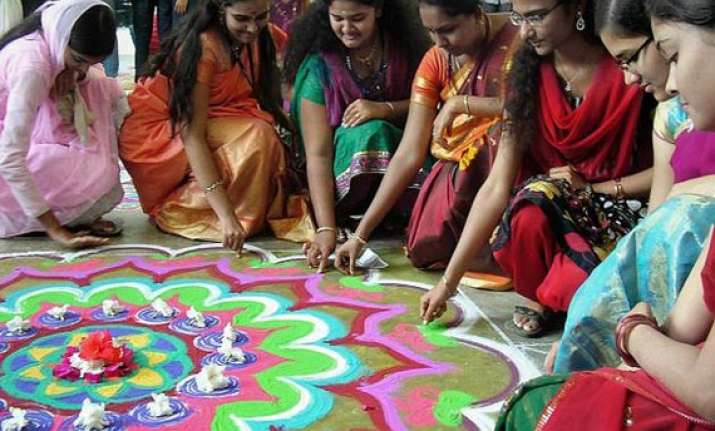 Chennai:  Pongal, the harvest festival of Tamil Nadu, was yesterday celebrated with traditional fervour across the state.
Variously hailed as "Tamilar Thirunal,"(Festival of Tamils), "Uzhavar Thirunal" (Farmers'carnival), and "Aruvadai Thirunal," (Harvest Fest)" the Pongal celebrations got off to a colourful start early in the morning.
In both urban and rural regions, streets in residential localities were decked up with colourful ornate drawings out of flour (Kolam in Tamil).
Houses were decorated with mango leaves and festoons.  Prayers were held and sweet rice (Pongal) was the main offering to the Sun God.
In several towns like Agastheeswaram in Kanniyakumari district, "Community Pongal" was celebrated in which people cutting across social strata come together to observe the festival.
While traditional sport like 'Jallikattu', 'Rekla' race, involving bulls, and Kabbadi were attractions in rural and semi-urban areas, in cities like Chennai, people preferred to visit amusement parks and beaches besides cinema houses for new films.
Special prayers were held in temples on the occasion.
Temple elephants, now at a rejuvenation camp in Thekkampatti on the foothills of Nilgiris district, prostrated before Ganesha, the elephant-headed God, and they were offered Pongal.
Another added speciality to Pongal is that it falls on the first day of the Tamil month 'Thai' which is considered as harbinger of hope, signified by the old Tamil saying "Thai Piranthal Vazhi Pirakkum'(You will find a way, with the birth of Thai)', and new endeavours can be taken up.
Pongal celebrations will continue for two more days.