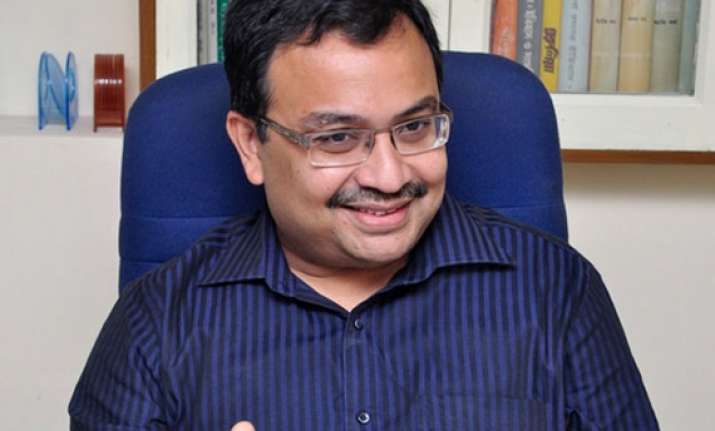 Kolkata: Trinamool Congress Rajya Sabha MP Kunal Ghosh was today grilled for over three hours in connection with the Saradha chit fund scam case after being summoned by Bidhannagar police for the fourth time within the span of a month.
Refusing to divulge details about the questioning, Deputy Commissioner of Police (Detective Department), Arnab Ghosh, told PTI that Ghosh has been summoned for a fifth time tomorrow at 12.00 noon for further interrogation.  On whether there was any possibility of Ghosh being arrested, the DCDD said, "What prompted you to come to this conclusion?"
Sources said that the interrogation was held to verify several facts which had come to light since April during the Saradha investigation.
Upon arrival at Bidhannagar Police Commissionerate today, the defiant MP said, "I must try to answer all queries from those investigating the case. The allegations against me are baseless and I was never involved (in the irregularities).  "I cleared all dues of my employees even when the company was facing a major crisis," Ghosh claimed.
Ghosh, the former head of Saradha's media arm, had earlier said he would be available whenever required by Bidhannagar Police Commissionerate, which is inquiring into the scam.
A few days back, Somnath Dutta, a senior executive of Saradha media and a close Ghosh aide, was remanded in police custody for seven days in connection with the scam.  Ghosh was suspended from the party on September 28 for anti-party activities.
The Saradha scam came to light in April as the company had no other option but to close its business in the state after failing to pay back depositors who had invested with it, lured by the promise of huge returns.
Saradha Chairman Sudipta Sen was arrested, along with his close aides from Sonmarg in Jammu and Kashmir in April of this year.
Ghosh had earlier threatened to "reveal many things" if he were to be arrested in the Saradha chit fund case.  He has demanded an intra-party inquiry panel saying he had much to tell the party leadership.