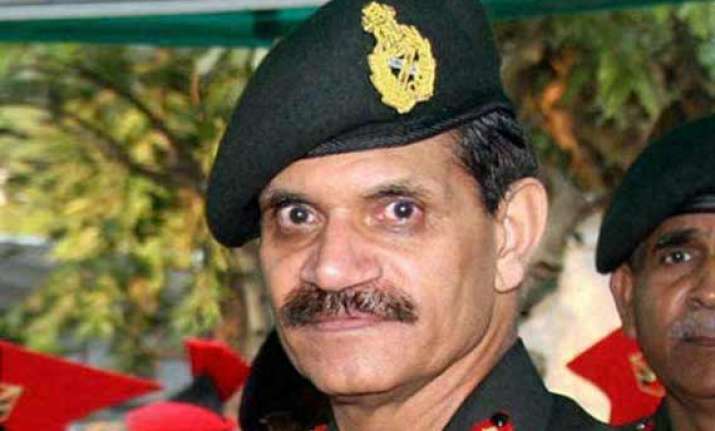 New Delhi: Lt. Gen. Dalbir Singh Suhag, whose appointment as Army Chief had kicked up a row, took over as the new Army Chief succeeding Gen. Bikram Singh.
Born to a Jat family based in Bishan village of Jhajjar district in Haryana, Lieutenant General Dalbir Singh Suhag is the second Army officer after the Field Marshal Sam Manekshaw to serve as the Indian Army Chief from the Gorkha Rifles.
Lieutenant General Dalbir Singh Suhag takes over as new Army Chief today
59-year-old Lt Gen Suhag served as the Vice Chief of Army Staff before this elevation. He will have a tenure of 30 months as the Chief of Army Staff.
An alumnus of Sainik School, Chittorgarh, Suhag joined NDA in 1970 and was commissioned into 4/5 GR (FF) in June 1974.
The General Officer has attended various career courses in India and abroad which include LDMC at CDM, Secunderabad in 1997-98, NDC Course at New Delhi in 2006, Executive Course in USA in 2005 and Senior Mission Leaders Course (UN) in Kenya in 2007.
He was a Company Commander in 'Op Pawan' in Sri Lanka and commanded 53 Infantry Brigade which was committed in counter insurgency operations in the Kashmir Valley from July 2003 to March 2005.
He holds the distinction of commanding 8 Mountain Division in Kargil from October 2007 to December 2008.
In June 2012, Suhag was heading the Eastern Command in Dimapur, Nagaland, when former Army Chief and present MP from Ghaziabad, General VK Singh, had imposed the Discipline and Vigilance (DV) ban against him. The ban was imposed for alleged failure of command and control in an operation carried out by an intelligence unit working directly under him when he was the Commander of Dimapur-based 3 Corps. The ban was later revoked by Gen Bikram Singh, when he took over as the Army chief, paving the way for his anointment.
On July 7, 2014, the Supreme Court while hearing a plea filed by Lt Gen Dastane alleging favouritism in the selection of Lt Gen Suhag as the next Army Chief, observed that there is no reason or urgency to stay the appointment of Lt Gen Suhag as the Chief of Army Staff.
His father Ramphal Singh Suhag was a Subedaar in the Indian Army. Suhag's father retired as a Major Subedaar from the Cavalry regiment. His younger brother Dharambir Suhag and his two brtother-in-laws are also senior ranking officers in the Indian Army. Suhag is married to Namita Suhag, who is a Political Science graduate from Delhi University.
The 6 feet 1 inch tall Suhag is said to be very conscious about his physical fitness. He daily runs for 10 kilometres. Besides, he also takes out time to play golf.