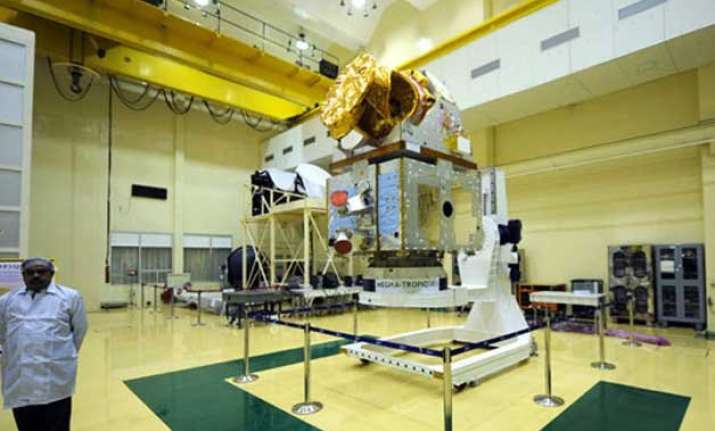 New Delhi: Indian Space Research Organisation (ISRO) has its hands full with new projects this year.
The projects onboard include new heavy launch vehicles, cryogenic and semi-cryogenic engines, a moon and a solar mission, air-breathing and reusable launch vehicles and human space missions.
IRNSS 1D
ISRO is ready for the launch of Indian Regional Navigation Satellite System 1D (IRNSS 1D). This will put in place India's own navigation system on par with the Global Positioning System of the US. IRNSS 1D is the fourth in the series of seven satellites providing navigational services. The satellite will be placed in geosynchronous orbit.
An official at the ISRO said that the launch is likely after March 15.
The other launches in the IRNSS series are IRNSS1E and IRNSS1-F satellites. The two satellites will be launched before the year end.
The first three satellites in the IRNSS series were launched from Sriharikota on July 1, 2013, April 4 and October 16 last year respectively.
GSAT-15 and GSAT-16
Bengaluru-based national space organisation will also launch geostationary communication satellites GSAT-15 GSAT-16 this year.
GSAT-15, expected to be launched in 2014-15, will carry 24 Ku-bad transponders and a GAGAN (GPS Allied geo Augmented Navigation) payload. It will be the replacement for Ku-band capacity of INSAT-3A and INSAT-4B to augment the capacity of existing DTH and VSAT services in the country. This will also benefit the civil aviation services in the country.
G-SAT-16, expected to be launched in mid-2015, will carry 48 transponders in C-band, Ku-band and Upper Extended C-bands and will also replace INSAT-3E. It will also help in augmenting and supporting the existing telecommunication, television, VSAT and other satellite based services in the country.
Both the satellites were approved in July 2013 and the government allocated Rs859 crore for GSAT-15 and Rs865 crore for GSAT 16.
Astrosat
Astronomy satellite Astrosat is also slated for launch this year. Astrosat will satisfy a long-standing need among India's astronomy community.
The satellite will scrutinise the skies over India and thus contribution largely to the study of astronomy.
The onboard equipment has mostly been built at the Tata Institute of Fundamental Research (TIFR) with ISRO chipping in with some parts.
It is a general purpose astronomy satellite capable of investigating a wide range of astronomical phenomena.
Chandrayaan II
After testing the success of Mangalyaan, India is aiming to place an orbiter around the Moon and send a wheeled rover to its surface in 2015.
Chandrayaan II is a joint ISRO–Roskosmos mission.
Chandrayan II is not likely to have payloads from other countries.
According to ISRO, this mission will use and test various new technologies and conduct new experiments. The wheeled rover will move on the surface and will pick up soil or rock samples for on-site chemical analysis.
The data will be relayed to Earth through the Chandrayaan II orbiter.
The mission was approved by the Government of India in September 2008.
The mission is planned to fly on a Geosynchronous Satellite Launch Vehicle Mk-II (GSLV) with an approximate lift-off mass of 2,650 kg from Satish Dhawan Space Center on Sriharikota Island.
Besides, India has also signed up contracts to launch two Indonesian satellites.