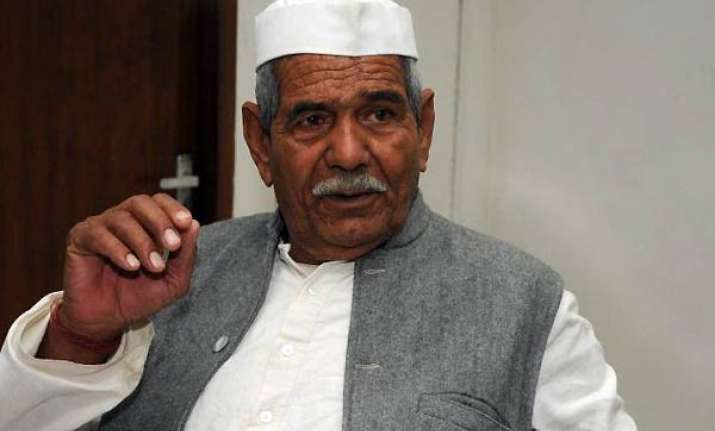 Muzaffarnagar, May 15 : The head of Bharatiya Kisan Union Mahendra Singh Takait passed away this morning at aroun 7:10 am at his home in Sisauli near Muzaffarnagar, Uttar Pradesh. He was 76 and was unwell for the last several months.
The final rites of the farmer leader will be held at 11:00 am on Monday  near the Kisan Bhawan in Sisauli, his supporters said.
Born in a Jat family of the Raghuvanshi gotra in 1935 at Sisauli village near Muzaffarnagar, Tikait shot into prominence in the 1980s when he led large number of farmers to stage protests in the capital on issues relating to farmers.
He led a number of mass Kisan movements under the banner of Bharatiya Kisan Union.
The BKU received national attention in 1988, when its supporters organised a virtual siege in Meerut demanding higher prices for sugarcane, cancellation of  farmer loans and lowering of water and electricity rates.
In 2006, around one lakh farmers gathered in Mumbai during heavy rains to protest against Government's WTO and anti-farmers policies.A memorandum addressed to Prime Minister Manmohan Singh was released urging to keep agriculture out of WTO.
Mahendra Singh Tikait, president of BKU said " It does not matter how much it rains here. We will not stop our fight. The Government will have to hear us. We need a change in policies".
Poverty and Lack of Political power was a constant theme in  Tikait's speeches.
He was the virtual leader of farmers in western Uttar Pradesh after the demise of late Primke Minister Chaudhary Charan Singh.
Tikait was arrested and later released on bail on April 2, 2008 for allegedly making derogatory and caste based remarks against UP chief minister Mayawati at a rally in Bijnore  on March 30, 2008.
Almost 6000 men from the security forces had surrounded Tikait in his village since April 1.
The entire row sparked off after Tikait had referred to Mayawti by her caste.
Tikait last week sent his son Rakesh to express solidarity with the farmers of Bhatta Parsaul in Greater Noida protesting land acquisition.