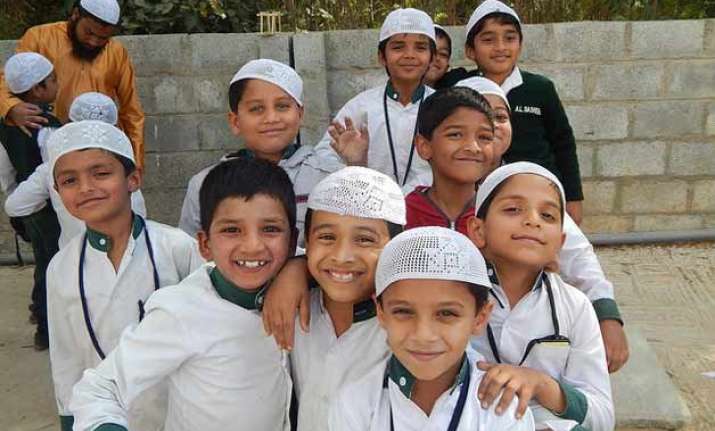 Lucknow: In a bid to educate the Muslim children of Uttar Pradesh, a Kerala based Muslim organization has planned to open nearly 100 primary schools in the state. Sunni Yuvajana Sangam (SYS) will spend nearly Rs 100 crore on the drive. The organization receives huge amount of donations from the community.
The plan involves of opening one or two schools in each city. A member of the supreme council of SYS Dr A P Abdul Hakeem Azhari said, "We will focus on primary and secondary education. Higher education can be taken care of later. We have done the homework at ground level and will soon start our programmes." He adds that they have planned to involve local Muslims in setting up the schools.
The outfit denied of any political motive behind the move but the group does not deny of forming a pressure group.
Dr Azhari said, "If you unite and have good numbers, one can form a pressure group. There is no plan for direct political intervention, but we will decide at the time of elections." The group claims to have 10 lakh active members.
The organization is open for helping other communities as well and not only to Muslims. Ours is a charity organisation working on humanitarian grounds," Dr Azhari added.
Recently, SYS invited UP CM Akhilesh Yadav and senior miniter Azam Khan for an event in Kerela's Mallapuram. Though Akhilesh could not go, Azam attended the event but was not happy with the welcome he got there. Reportedly, he was not pleased with the announcement that no political speeches will be made from the SYS platform. Azhari refused to comment on the controversy.
SYS has already started a technical institute for girls in UP's Pilibhit district and a medical dispensary for poor in Shahjahanpur. The Muslim outfit came into news when it donated Rs 8 lakh each to two natives of UP's Deoria and Maharajganj districts, respectively, who lost their lives during a mishap in an oil company in Saudi Arabia.
The outfit has already opened 200 primary schools in West Bengal, 20 in J&K and 5 in Gujarat, said an office bearer of the SYS students' wing.
SYS is headed by conservative Muslim cleric Kanthapuram A P Aboobacker Musaliyar, who is also general secretary of All India Sunni Jameyyathul Ulema.