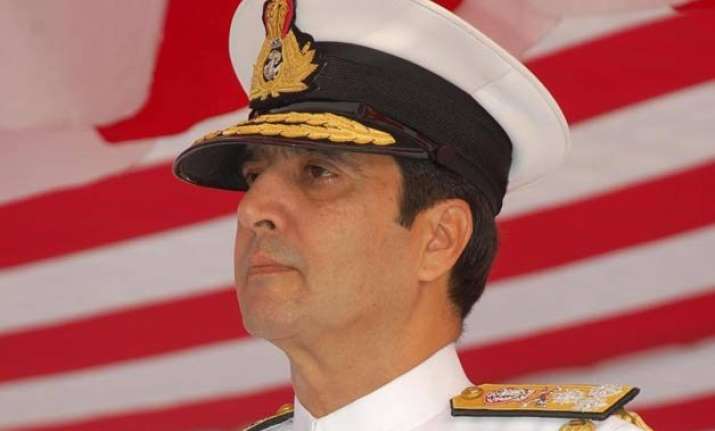 New Delhi: Navy Chief Admiral Robin Dhowan on Sunday said that India is keeping a close watch on the growing military cooperation between Pakistan and China as both the countries move closer to inking out a landmark submarine deal.
In an interview to Hindustan Times, Dhowan said that the navy is ready for any eventuality and is keeping the Indian Ocean under tight surveillance.
On his completion of one year into the office, navy chief said, "We have our eyes firmly set on waters of interest around us. The navy is a multi-dimensional combat force and we are looking at all aspects related to sea control and sea denial amid the unfolding developments in the region."
His comment came a day before Chinese President Xi Jinping is to reach Pakistan on Monday on a 2-day trip. The visit is likely to see the finalisation of a deal for buying eight diesel-electric submarines. The deal will strengthen Islamic nation's force in the sea adding to its current fleet of five French submarines. Islamabad has two more submarines that it built in 1970s.
During Xi Jinping's visit, first by a Chinese premier in nine years, investment deals worth billions of dollars are expected to be signed. But the worry lies for India in the defence deals which he is to finalise.
India, one of the strongest forces at sea, has 14 submarines but the proposed deal between Beijing and Islamabad could bring Pak in competition with India's navy.
India lacks behind China substantially in as the communist nation operates close to 60 submarines, including nuclear-powered attack and ballistic missile submarines. The country is looking to add three more advanced nuclear-powered attack submarines into its fleet.
 "The navy is closely tracking the developments in the Chinese navy and keeping an eye on their deployment patterns in the Indian Ocean region (IOR). We will have to see which way Pakistan-China military cooperation is headed," the navy chief said.