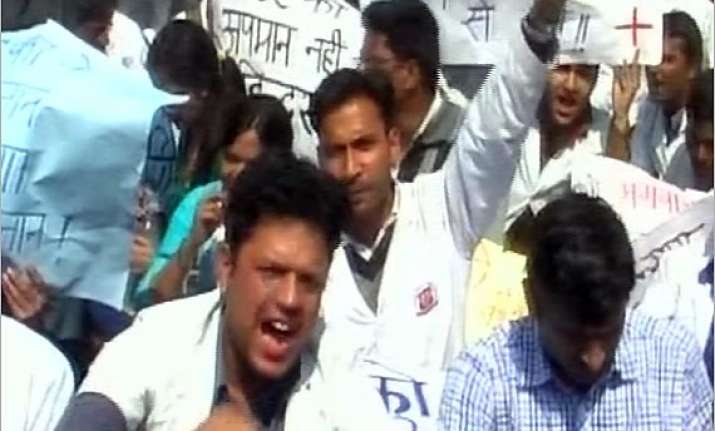 Kanpur: The strike by junior doctors in protest against alleged thrashing of some of their colleagues in Kanpur by local Samajwadi Party MLA Irfan Solanki and his PSOs on Saturday entered its fourth day today.
Kanpur district administration had charged the doctors with rioting and causing ruckus and sent 24 of them to jail. 
The district administration swung into action after the protest turned into an agitation as several other doctors joined them. But after there was media outcry over police atrocities, the district police hurriedly acquired bail orders for their release. 
The 24 junior doctors arrested in connection with the clash have got bail, said Kanpur DM Roshan Jacob. 
But the junior doctors have refused to come out of prison. They are demanding that until and unless IMA President Arti Lalchandani comes to jail to meet them, they will not leave. 
The district administration took several hours on Monday to persuade the doctors to come out of jail.. The drama began at 10 pm and ended at 3 am. 
Warning the doctors, Jacob said if they still continued with their protest, the Essential Services Maintenance Act could be invoked against them. 
When asked about withdrawing the cases lodged against the arrested doctors, Jacob said it had not been decided yet and the decision regarding this could be taken only after investigation. 
The doctors, however, refused to call off their strike, saying that bail for the arrested doctors was never part of their demand and that they had demanded withdrawal of the cases against them. 
Adding to the demands, two junior doctors, on condition of anonymity, said, "Our other demands are that the SSP who beat up the doctors be removed immediately and a case be registered against MLA Irfan Solanki. Until these demands are met, we will continue with the strike."