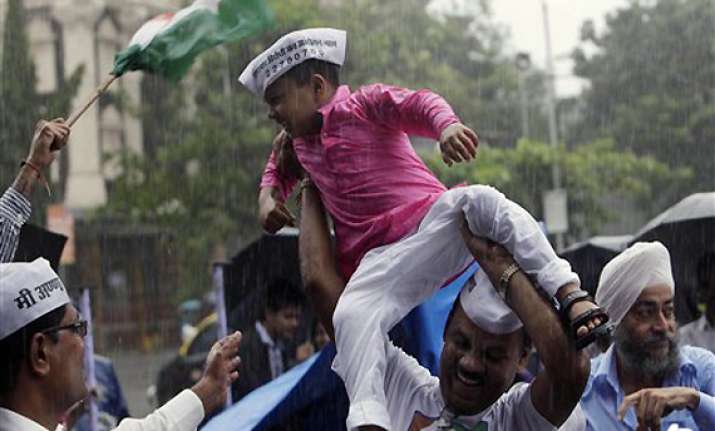 Mumbai, Aug 28: Wearing Gandhi caps and holding the tricolor, hundreds of supporters of the anti-corruption crusader Anna Hazare surged on to streets to celebrated the victory of common man, after Hazare ended his fast today.

In order to support Hazare, over 60 people had also launched fast at the Azad Maidan in south Mumbai. However, with the deteriorating health conditions, the number came down to 17 over the past few days.

"I have no words to express my happiness. It is a victory of common man...the enthusiasm is yet to sink in," 64-year-old Cardiac surgeon Dr Ratna Magotia, who has been fasting for the last 12 days, told PTI.




Madhu Padaya, who was fasting along with her husband at the Azad Maidan, said, "We the people of India have shown that we are all united when it comes to eradicating corruption. It is a new beginning for all of us."

Her husband Anupam, a former Air India employee, who took on the airline's management over the issue of non-licensed staff, said, "It is the power of common man that made Parliament to take decision on Jan Lokpal bill which was pending for quite some years. Anna has realized the common man of their powers and this momentum will not die soon."

"This is just the first phase of the victory. We have won the battle but the war against corruption is still on. We are elated that our demands our fulfilled...it's a long way.  Implementation of the bill is a must," Urmila Lunaware, a BMC primary school teacher, said.

India Against Corruption (IAC), an umbrella group of people and organisations, who have come together nationwide to collectively demand enactment of the Jan Lokpal Bill, are also elated over the victory.




"We are happy that the first step has been taken. We are preparing ourselves for the larger battle ahead. We are happy that government has considered the three main points and also that the Parliamentarians have acted with great dignity. We would be carefully scrutinising the process and if need be, we will intensify our protest," Mayank Gandhi, Mumbai in-charge of India Against Corruption (IAC), who also broke his fast today, said.

Rallies are being conducted in various parts of the city to celebrate the victory. Around 500 people were part of the rally conducted by the Kapol community in Juhu, other rallies were held at Ghatkopar, Vikhroli and another big victory rally will be conducted at 5 pm from Borivali to Malad.

"It is time for celebrations...as we have won in our fight against corruption," Mannan Gandhi, a member of IAC said. PTI