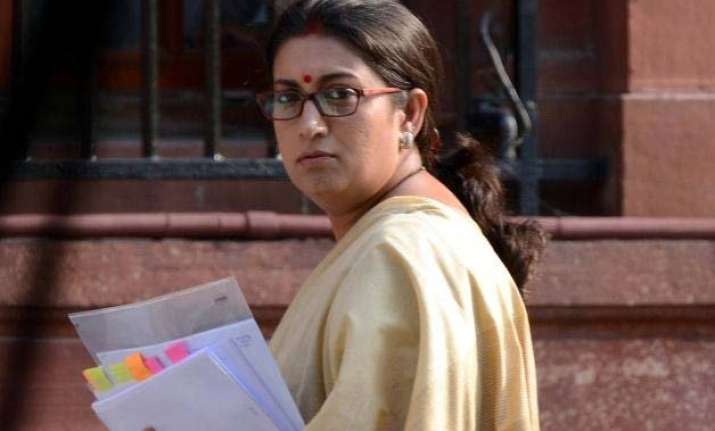 New Delhi: JNU today claimed that the pamphlets of the Mahishasur event held in 2014 from which HRD Minister Smriti Irani had quoted in Parliament were "authentic" even as the student organisers had alleged them to be fake.
Irani while giving clarification about her ministry's stringent action on 'Anti-National' forces, had last week read out a pamphlet in Parliament, which the student organisers of the event later denied having issued alleging that the minister quoted from "half-cooked facts". 
"The HRD ministry had asked us to authenticate the documents including pamphlets of the events. We checked the security reports in our records and the pamphlets were found included in them. The documents were correct according to our records and the same has been conveyed to the ministry," JNU Registrar Bhupinder Zutshi told PTI.
"When the event took place in October 2014, a complaint was also registered in Vasant Kunj police station and the university enquiry committee was also instituted," he said, adding the findings of the probe panel were not known to him as he wasn't holding the position of Registrar then.
Reading from the document, Irani had said in the Parliament, "Posted on October 4, 2014. A statement by the SC, ST and minority students of JNU. And what do they condemn? May my God forgive me for reading this".
"Mahishasur, a brave self-respecting leader, tricked into marriage by Aryans. They hired a sex worker called Durga, who enticed Mahishasur into marriage and killed him after nine nights of honeymooning, during sleep," she added.
Anil Kumar, a PhD student, who was among the organisers of the event had alleged the minister was "lying" saying, "the pamphlet that Irani was reading in Parliament was not written by me or any of my mates. The pamphlet she is seen holding in the speech is a colourful one which is never used in any JNU protest due to high printing costs. It is a fake document".
The festival has been observed on the campus every October since 2011 to debate caste issues as a tribute to the "demon" king Mahishasur, who was slain by Goddess Durga.