Follow us on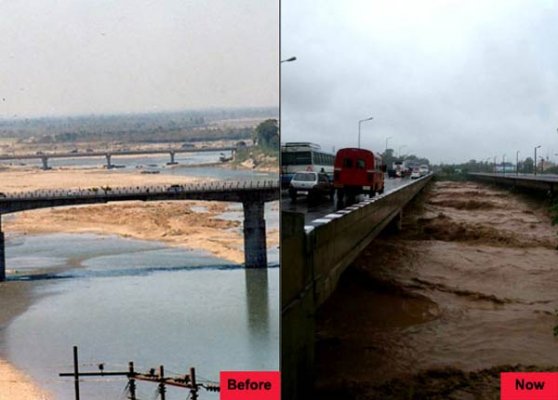 New Delhi: Indian state of Jammu and Kashmir, which is also referred as the 'heaven on earth', is battling its worst floods in 6 decades. The death toll has already crossed 100.
Jhelum in Srinagar is flowing at 22.40 feet, 4.40 feet above danger mark, as many areas in the summer capital of the state have been submerged.
River Tawi in Jammu is flowing much higher than the danger level. Our citizen journalist Kapil Kaul has contributed some really stunning images from the Tawi bridge near Gandhi Nagar in Jammu.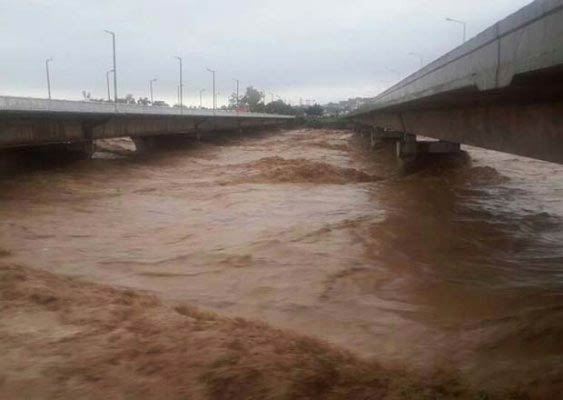 The traffic flow has already been stopped making it difficult for the people to commute from one part of the city to the other.
Floods have also left people with no water and electricity supply. Fresh flash floods and landslides in Jammu and Kashmir left many persons dead, taking the death toll in the state's worst floods in nearly six decades to 100.
Army has joined the relief operations as situation turned grim in the state where the deluge has wreaked havoc, damaging roads, dozens of bridges and buildings and crops.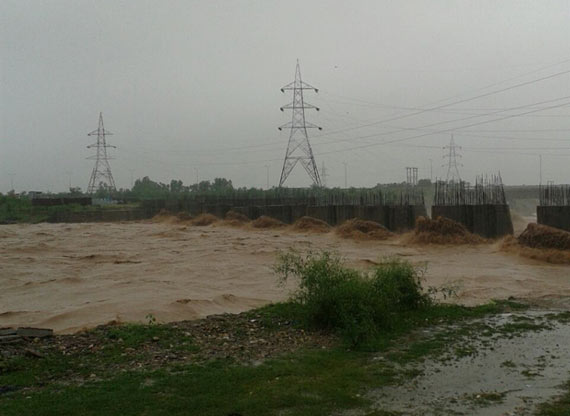 As many as 64 persons have died in the Jammu region Friday  in flash floods, house collapses and landslides, state officials said here, while four have lost their lives in Kashmir.
Almost all 10 districts in Jammu region are affected.
River Jhelum and many other streams were swollen and had inundated most areas in five districts of Kashmir. Three more districts out of 10 in the Valley have also been affected by the flood fury.
Twenty people died in Rajouri in flash floods, landslides and house collapses Friday , SSP Rajouri Mubasir Latifee said, adding that 13 of them perished in house collapse triggered by landslide in Thanamandi belt.
Besides, 25 bodies were recovered from yesterday's bus mishap in which 63 members of a marriage party were washed away in Rajouri district, the SSP said.
In Poonch district, 12 people died taking the total number of deaths in the district to 19, officials said.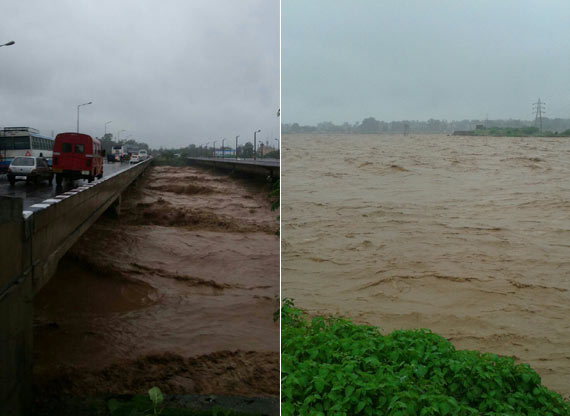 In Reasi district, four people died Friday  taking the toll to 10, the officials said, adding one died in Udhampur district and the bodies of two people who were washed out have been recovered from a canal in Jammu.
With this the total number of deaths in the Jammu region has gone up to 78.
Four people were Friday washed away in Kashmir, taking the toll to 10 in the Valley. Three persons were washed away by strong currents in Sukhnaq Nalla in central Kashmir Budgam district while another youth was drowned in Vishnu Nalla in south Kashmir Kulgam district, police said.
As many as 6,000 people were rescued from flash floods in various areas by teams of Army and IAF.
Over 3,000 people from 20 villages have been evacuated from Pargwal and Munawar Tawi belt in view of areas getting inundated by swollen Chenab river in Jammu and one thousand from other districts thereby dislocating and displacing 10,000 people.
Image courtesy: Kapil Kaul (CJ)
You can also send us your images/information @ indiatvnewslifestyle@gmail.com to become one of our esteemed citizen journalist.