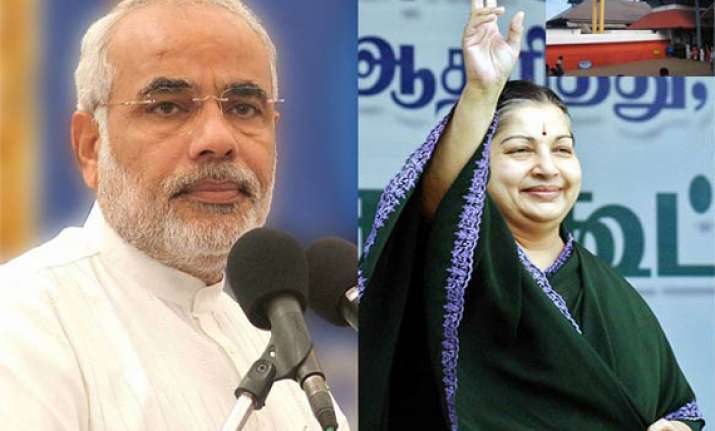 Krishnagiri (TN): Taking Narendra Modi head on for the first time, Tamil Nadu Chief Minister J Jayalalithaa today dismissed as a "myth" the Gujarat model of development and said her state was placed far better in various sectors.
In a strong rebuttal to the BJP's Prime Ministerial nominee on his charge that her party was not concerned about people's welfare, she said Tamil Nadu was ahead of Gujarat in various sectors including social indicators and industry.
"A myth has been created that Gujarat is No.1 in India.  But that is not true. The fact of the matter is that Gujarat is keen to market itself, but Tamil Nadu, under my leadership, is focussed not in making empty claims, but more determined to deliver," she told an election rally here, a day after Modi campaigned for NDA in the town in western Tamil Nadu.
Stepping up attack on AIADMK and DMK, Modi had accused the two parties of being interested only in settling personal scores rather than working for poeple whenever they came to power.
Reeling out statistics to repudiate the Gujarat development model, the main plank of Modi, Jayalalithaa said Below Poverty Rate (BPL) rate was 16.9 per cent in Gujarat while it was only 11.3 per cent in her state which was also better placed in terms of Infant Mortality Rate, at 21 per 1000 as against Gujarat's 38.