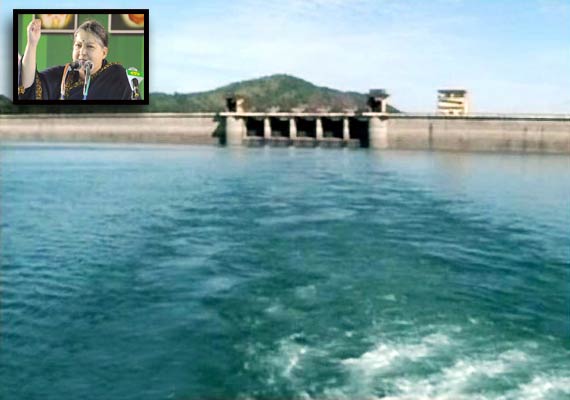 Chennai, Mar 17: Voicing her opposition to certain sub-clauses of the draft Dam Safety Bill 2010, Tamil Nadu Chief Minister Jayalalithaa has sought the Prime Minister's intervention as a standing committee had not addressed her government's apprehensions.

Locked in a dispute with Kerala on the Mullaperiyar dam issue, Tamil Nadu is against the neighbouring state's stand on building a new reservoir to replace the existing 116-year-old structure.

Kerala wants to dismantle it citing safety reasons, while Tamil Nadu insists it is strong.

Recalling her letter dated July 29, 2011 addressed to Prime Minister Manmohan Singh, Jayalalithaa today said she had told him in "unequivocal terms" her government's objection to the sub-clauses, which would be "detrimental to the interests of Tamil Nadu".

"I am told that the Standing Committee on Water Resources and the Ministry of Water Resources have not considered the objection of my government to sub-clauses 26(1), (2), (3) and (4) and clause 13 of the draft Dam Safety Bill, 2010", she said.

Seeking Singh's intervention, Jayalalithaa requested him to "kindly order the Ministry of Water Resources to delete the objectionable clauses pointed out by the Government of Tamil Nadu from the draft bill so that the interests of Tamil Nadu are fully protected."

Asserting that her Government's apprehensions were genuine, the Chief Minister said, "if they are not addressed, it would tantamount to taking away the control over the maintenance of the dam from the state which owns the dam, consequently affecting hundreds of farmers and agricultural production".

Jayalalithaa had earlier in her letter last year to the Prime Minister said sub-clause 26 (1) of the Bill stated that all specified dams shall fall under the jurisdiction of the state where the dam is situated.

She also pointed out that the non-state Dam Safety Organisation and owner of the specified dam shall cooperate with that state in matters of inspection and remedial measures.

Four dams - Mullaperiyar Dam, Parambikulam Dam, Thunakadavu Dam and Peruvaripallam Dam - are owned, operated and maintained by Tamil Nadu whereas they were situated in the territory of Kerala, Jayalalithaa said.