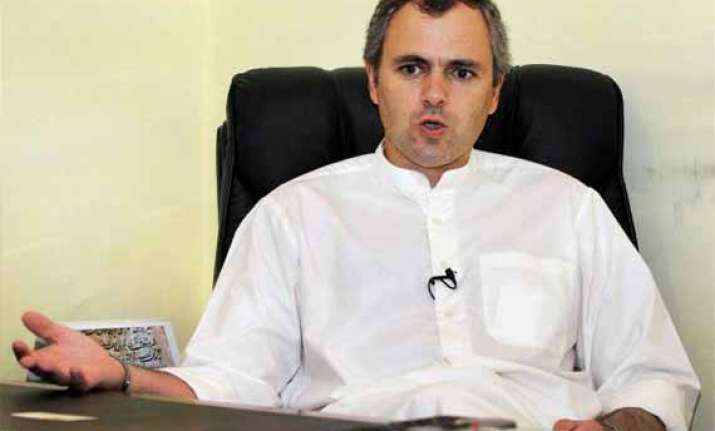 Srinagar: With assembly elections round the corner, Jammu and Kashmir Chief Minister Omar Abdullah today said his government was mulling reducing electricity tariff and enhancing the scale of ration to provide relief to people of the state.
"The government will continue to take measures to give relief to the people like enhancing the scale of ration and reducing the electricity tariff," said Omar, who is also the National Conference working president.  He was addressing a workers convention at Handwara in Kupwara district in north Kashmir.
"We are working on these matters and I have asked the Consumer Affairs and Public Distribution minister to formulate a proposal for enhancing the scale of ration even if the state has to bear the cost," Omar said.
Launching a scathing attack on opposition PDP, he said his government was taking path-breaking decisions for welfare of common people particularly youths, but "the PDP is getting frustrated by these initiatives and are crying hoarse".  "The decisions relating to revocation of employment policy, enhancing the retirement age of government employees up to 60 years and those of job-seekers to 40 years besides service benefits to Rahbar-e-Taileem teachers are unnerving the PDP leadership," Omar said.
Omar listed his government's achievements in different sectors during the last over five years and said "the work done is so huge and result-oriented that it has surpassed all the achievements made by any state government".  During the last over five years, power projects of the capacity of 1500 MW have been launched in the state involving an expenditure of over Rs 30,000 crore, he said.
The system of allotment has been so transparent and scrupulous that there has not been any doubt of corruption even for one rupee, the Chief Minister said.  He also referred to the opening of hundreds of new schools, colleges, universities, technical institutions, polytechnics and ITIs to make higher education accessible to all.
Meanwhile, ridiculing the "hollow boast" of the Chief Minister that he would empty the coffers of the state for the welfare of people, senior PDP leader and MP Muzaffar Hussain Baig said it comes as a joke at a time when there is hardly anything left in the treasuries to spend.  
"The treasuries across Kashmir are having liabilities of over Rs 400 crore affecting government employees, pensioners and contractors. In such a grim financial situation, the announcements about spending fortunes on people sounds comic," Baig said in a statement.