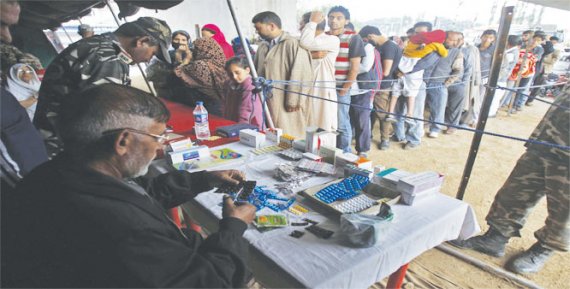 New Delhi: About 33.9 metric ton medical supplies including Chlorine tablets, ORS, IV fluids (R/l), Paracetamol syrup, Anti-biotic, Anti-emetic and Anti-spasmodic will be airlifted for Srinagar today. This will make total medical supplies to 76 Metric Ton. This includes 10 lakh chlorine tablets for water disinfection, antipyretics for fever, vomiting, anti -diarrheal drugs, antibiotics, pediatric preparations, intravenous fluids.
25 metric ton of bleaching powder has been booked by rail to reach Jammu.
A group of 20 specialist doctors from Delhi Medical Association, who have volunteered to serve the flood affected areas of Jammu & Kashmir, have reached Srinagar today and have been deployed.
Two Public Health Teams have been positioned on 8th September, 2014, one each in Jammu and Srinagar for Rapid Health Assessment and to prevent/control public health exigencies.
A 29 member clinical team comprising Physicians, Pediatricians and Gynecologists from Central Government hospitals (Dr RML Hospital, Safdarjung Hospital and Lady Hardinge Medical College) have been posted to Kashmir on 10th/ 11th September, 2014. They are providing specialized care in the District hospitals of Anantnag, Phulwama, Kulgam, Shopian, Badgam, and Bandipur.
Psycho-social team for psycho social need assessment has been deployed from National Institute of Mental Health and Neuro Sciences (NIMHANS), Bangalore on 12, September, 2014.
Indian Red Cross Society has so far supplied 1082 tents (each to house eight people) from their stores at Delhi (750) and Arakkonam (332). Seven hundred additional tents are available at Arakkonam, Tamil Nadu for deployment. In addition, they have sent 750 tarpaulins, 1000 kitchen sets and 5000 blankets. 10000 additional blankets have been dispatched on 14.09.2014.